Hurricane Lane Was The Second-Wettest Tropical Cyclone On Record In The U.S.



 United States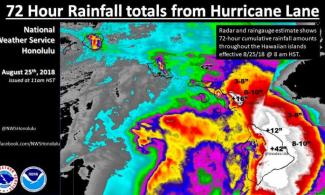 Hurricane Lane left its mark in Hawaii without ever making landfall. The hurricane now holds the notorious distinction of producing the second-highest rainfall total ever measured in a tropical cyclone in the United States. A rain gauge on Hawaii's Big Island measured 52.02" of rain during Hurricane Lane, cementing the hurricane's status in the record books.
Hurricane Lane threatened Hawaii last weekend on a path that's extremely unusual for tropical cyclones in this part of the Pacific Ocean. While most hurricanes only graze Hawaii to the north or south, Lane approached the state from the south and stalled-out not far from the island chain. Despite the hurricane never making landfall, the storm's proximity led to several days of intense rains pummeling the islands.
Persistent rain bands are bad over any type of land, but they're particularly dangerous when they form over mountainous terrain. The heaviest rain band associated with Hurricane Lane raked the Big Island, which features two volcanoes that both exceed 13,000 feet in height. Rain rates can dramatically increase as a result of orographic lift, or winds flowing over high terrain, resulting in mountainous areas seeing much higher rainfall totals than their surroundings.
This is the situation some residents faced on the Big Island as the hurricane passed to the west. Mountain View, Hawaii, recorded 52.02" of rain during the storm, which is the second-highest rainfall total ever recorded in a tropical cyclone. The highest ever total was a report of five feet of rain in Nederland, Texas, during Hurricane Harvey last year. Hawaii's previous tropical cyclone rainfall record was just a few drops lower—52.00"—set during Hurricane Hiki in 1950.