Hurricane Lorenzo becomes extratropical storm, takes rare aim at Ireland
,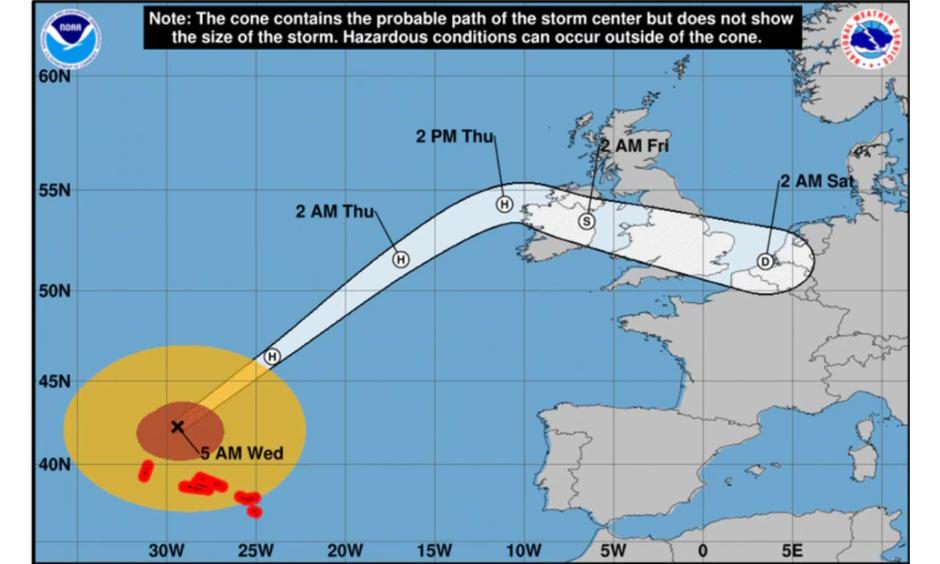 In a rare turn of events, Hurricane Lorenzo; which became an exrtratropical storm Wednesday morning, is expected to bring heavy rainfall to Ireland and portions of the United Kingdom Thursday, according to the National Hurricane Center's 11 a.m update.
Lorenzo's maximum sustained winds decreased to 80 mph, but the storm's reach grew with its hurricane-force winds detected up to 150 miles from the center and its tropical-storm-force winds extending 390 miles, the NHC said.
The storm is moving at 43 mph and is 945 miles away from Cork, Ireland putting it on track to make landfall Thursday evening, the NHC said.
...
The Portuguese government reported minimal damage in the wake of Hurricane Lorenzo, according to the Associated Press.
Lorenzo felled trees and power lines as it passed just west of the Portuguese island chain home to 25,000 people, AP reported.
...
The Portuguese weather agency reported gusts of up to 90 mph, which is lower than forecast, as Lorenzo lost power over cooler water.
Lorenzo is located far in the northeast Atlantic but is so large the storm has generated life-threatening surf conditions across the North Atlantic basin observed off the coasts of east Central Florida as well as most of the eastern United States, Canada, the Bahamas, portions of the Greater and Lesser Antilles, and parts of Europe.