January 2017: Earth's 3rd Warmest January on Record
,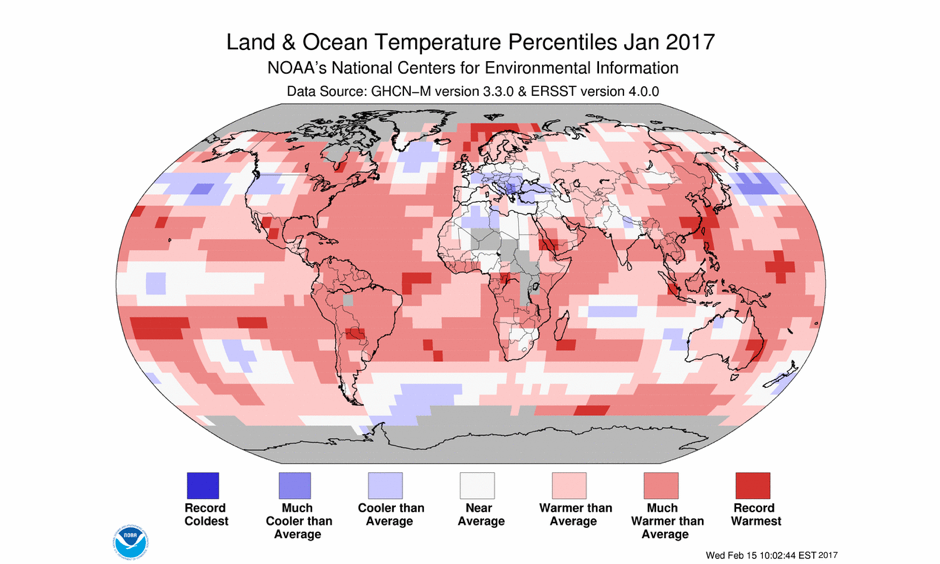 January 2017 was the planet's third warmest January since record keeping began in 1880, said NOAA's National Centers for Environmental Information (NCEI) on Thursday. NASA also rated January 2016 as the third warmest January on record. The only warmer Januarys were 2016 (highest) and 2007 (second highest). Global ocean temperatures during January 2017 were the second warmest on record, and global land temperatures were the third warmest on record. Global satellite-measured temperatures in January 2017 for the lowest 8 km of the atmosphere were the sixth warmest in the 39-year record, according to the University of Alabama Huntsville (UAH).

It's remarkable that Earth saw its third warmest January on record without any help from El Niño, which works to raise global air temperatures by exporting heat from the oceans. Sea-surface temperatures in the Niño 3.4 region of the tropical Pacific rose into the cool side of the neutral range during January, although a La Niña Advisory was still in effect. In contrast, the warmest and second warmest Januarys (2007 and 2016) both occurred during an El Niño event.