January Smashed Another Global Temperature Record
,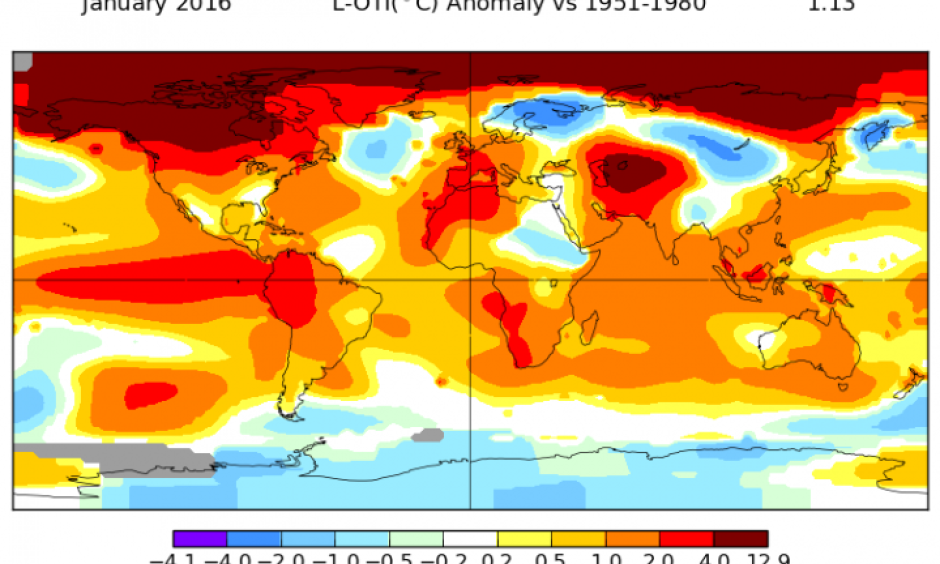 This January was the warmest January on record by a large margin while also claiming the title of most anomalously warm month in 135 years of record keeping. The month was 1.13°C — or just a smidge more than 2°F — above normal. That tops December's record of being 1.11°C — or just a smidge below 2°F — above average.
It marks the fourth month in a row where the globe has been more than 1°C (1.8°F) above normal. Incidentally, those are the only four months where the globe has topped that mark since record keeping began.
Global heat is somewhat a symptom of El Niño. The climate phenomenon of warm water in the eastern tropical Pacific might have passed its peak, but is still providing a little boost to global temperatures.
The big driver, though, is human-caused climate change, according to a Climate Central analysis.
With January off to record heat, it reinforces the likelihood that 2016 could be yet another record-setting year. The U.K. Met Office has already released its forecast for 2016. It expects the globe to "be at least as warm, if not warmer" than 2015, according to Chris Folland, a Met Office research fellow.
If 2016 sets another global temperature record, that would make it back-to-back-to-back years of record setting hot temperatures. That's never happened before