King tide flooding is a preview of the everyday norm we can expect due to global warming



 United States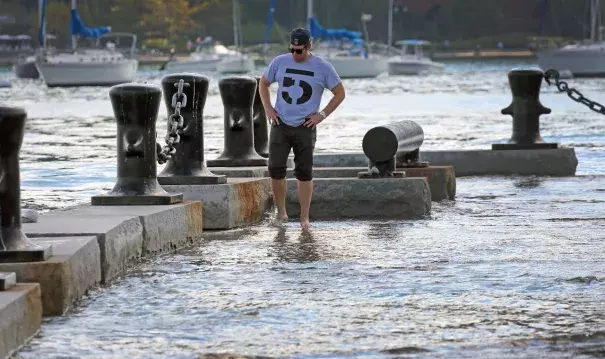 The flooding caused recently by the tides in coastal communities around the world, including here in Massachusetts, may be far more normal in just a few decades, thanks to climate change.
Experts warn that eventually sea levels will have risen to the point where such flooding will be routine.
"King tides preview how sea level rise will affect coastal places," the Environmental Protection Agency says. "As time goes by, the water level reached now during a king tide will be the water level reached at high tide on an average day.
"Sea level rise will make today's king tides become the future's everyday tides," the agency says.
King tides are caused by gravity that pulls oceans to their highest levels when the earth, moon, and sun are in a particular alignment.
Researchers have already found a sharp increase in coastal high tide flooding, also known as "nuisance" or "sunny-day" flooding, around the United States over the last century, particularly since the 1980s. They say climate change is to blame.
The EPA says that tides "are reaching higher and extending further inland than in the past."
"As sea level is rising, it requires less of a high tide or less of a storm to cause flooding," said Rutgers University climate scientist Robert E. Kopp.
Scientists, including Kopp, have studied how the world's oceans have risen significantly in recent decades, and at a far faster pace than in preceding centuries, as the planet has warmed to record levels.
Researchers have said they expect sea level rises in our region to continue to outpace other parts of the world. And a report earlier this year said the impact of climate change on Boston will be far more calamitous than previous studies have suggested.
Scientists say that harmful greenhouse gas emissions by humans have fueled the rising temperatures and sea level rise.
William Sweet, an oceanographer at the National Oceanic and Atmospheric Administration, in a study published in late 2014, projected that a majority of coastal areas in the United States can expect to experience 30 or more days of nuisance flooding annually by 2050.
That analysis featured projections for specific cities, including Boston.
Sweet said Wednesday that even if humans are able to curb greenhouse gas emissions moderately, his analysis estimates that Boston can expect to endure about 50 days of nuisance flooding each year by 2050.
Under a scenario where humans fail to curb emissions in any significant way, Boston could expect as many as 120 days of nuisance flooding annually.