Lane's Remnants Take Final Swipe at Hawaiian Islands, Prompting Voluntary Evacuations



 United States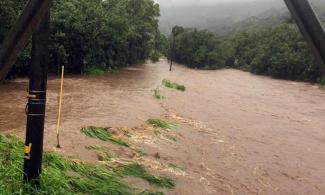 Heavy rains associated with the remnants of Lane continued to cause problems on the Hawaiian Islands Tuesday, including Kauai.
More than 20 inches of rain fell on the Garden Isle, leading to several road closures Tuesday. The heavy deluge also prompted officials to urge residents in southern Kauai to voluntarily evacuate until waters recede.
...
Gov. David Ige signed a supplementary proclamation Tuesday, extending relief for damage resulting from Lane. The proclamation is effective through Oct. 27.
Days of rainfall wreaked havoc on several other Hawaiian islands, including Maui, where a massive hole opened in the ground during the torrential downpours.
Officials in the town of Haiku said the crack opened in the middle of a road, uprooting trees and swallowing at least one vehicle Friday night, according to KHON-TV. Locals estimated the crack to be some 25 to 30 feet deep, the report added.
...
No injuries were reported in the incident, and nobody was in the vehicle that fell into the fissure, KHON also reported.
...
The powerful storm racked up prolific rainfall totals, unleashing hours of torrential downpours that yielded life-threatening floods. Many roads remained blocked for days, especially on Maui, where landslides continued to cause trouble through Sunday.
The storm became the No. 2 rainmaker from a tropical cyclone since 1950, topped only by Hurricane Harvey in 2017. The storm dumped more than 50 inches of rain on some parts of Hawaii Island, and more than three feet of precipitation in Hilo, where widespread flooding was reported. Some of the biggest rainfall totals came upslope of Hilo, adding to the disaster occurring in the city.