The Latest: Forecasters warn of more Arizona flooding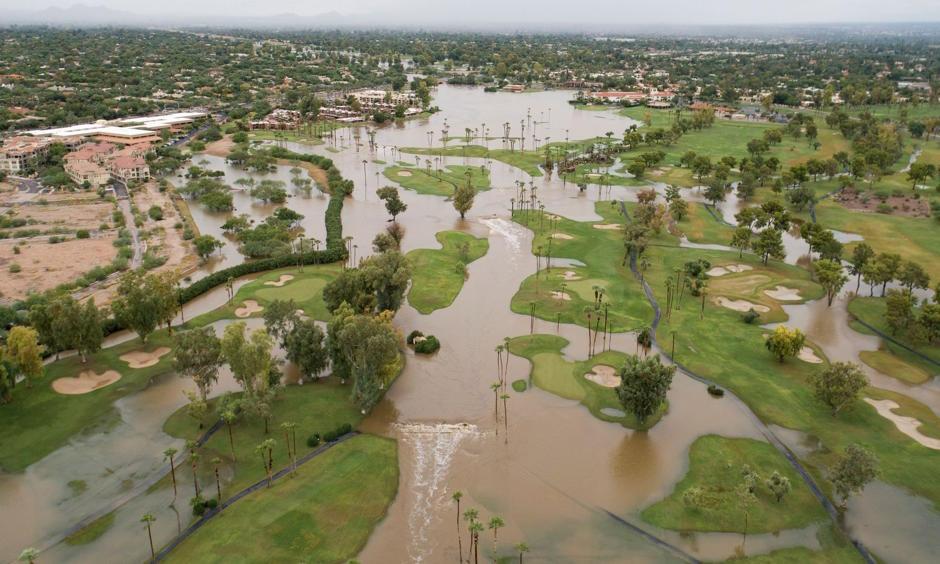 8:15 a.m., October 3
Authorities are warning that an earthen dam in Arizona's southern desert could fail because the lake behind it is swollen with storm runoff from the remnants of Tropical Storm Rosa and that residents of a small community nearby were being evacuated.
The National Weather Service on Wednesday said water levels were within 1 foot (0.3 meters) of overtopping Menagers Dam and that it could give way and flood the community of Ali Chuk on the Tohono O'odham (TOH'-oh-no OH'-tum) Nation's reservation west of Tucson.
The tribe's Department of Public Safety said Tuesday night in a statement that flooding from runoff made roads impassable in the area on Tuesday and tribal officials were working to evacuate residents.
The Arizona Daily Star reported that the community has a U.S. Census-reported population of 162 and that the area got between 3 to 5 inches (8 to 13 centimeters) of rain on Monday.
The tribal department's statement said officials evacuated more than 30 people from a village elsewhere on the reservation because of flooding.
___
9:20 p.m., October 2
Remnants of a tropical storm dropped a record amount of rain on Phoenix.
National Weather Service meteorologists say 2.35 inches (5.97 centimeters) of rain had been recorded at Phoenix Sky Harbor International Airport as of Tuesday night.
That made it the rainiest October day since records have been kept, topping the 2.32 inches (5.89 centimeters) recorded on Oct. 14, 1988.
It also marked the eighth-rainiest day in Phoenix's history for any date.
That surpassed the total amount of rainfall recorded at the Phoenix airport during the entire Arizona monsoon season this year that runs annually from mid-June to the end of September.