Los Angeles' Getty Fire Forces Evacuations; Kincade Fire Doubles in Size; More than 2.7 Million Without Power
,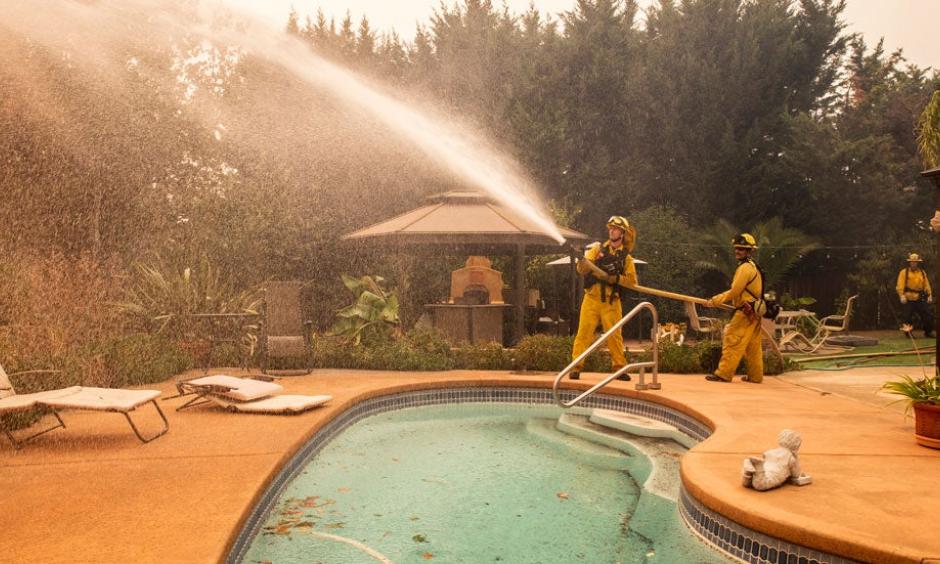 A new fire early Monday threatened homes and prompted evacuations in Los Angeles while 400 miles to the north, the Kincade Fire nearly doubled in size as it neared the city of Santa Rosa.
The Getty Fire began on the west side of the 405 freeway near the Getty Center about 2:30 a.m. CDT Monday, according to the Los Angeles Fire Department. Two hours later, it had spread to more than 250 acres, and evacuations were ordered from Mandeville Canyon Road south to W. Sunset Boulevard and east to 405.
...
In Northern California, the Kincade Fire had burned nearly 85 square miles and was only 5% contained early Monday. On Sunday, it had roared south to the outskirts of the city of Windsor, California, and threatened the city of Santa Rosa, leading to more evacuations.
More than 3,400 personnel continue to fight the fire, which has destroyed 94 structures, including buildings at several Sonoma County wineries. Brush and fencing on the northern side of Windsor burned right up to the backyards of some homes. It also reached the outskirts of Santa Rosa, but there was no immediate threat to the city, according to the Sonoma County Sheriff's Office.
...
Newsom declared a statewide emergency because of "the effects of unprecedented high-wind events which have resulted in fires and evacuations across the state," according to a statement.
...
Meanwhile, Pacific Gas & Electric said power is out to 965,000 customers and another 100,000 have lost power because of strong winds, bringing the number of people without electricity to nearly 2.7 million people.