Lower 48 basks in near-warmest February air in three decades



 United States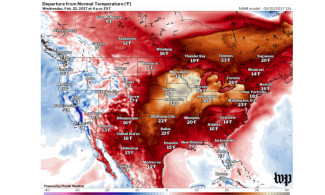 The weather this February keeps getting weirder. At a time when Arctic blasts usually sweep across the nation and Northern states are covered in snow and ice, historically warm air has flooded the eastern two-thirds of the nation.
All-time February record high temperatures are falling and the air feels more like early May.
Wednesday's average high temperature over the Lower 48 was forecast to soar to a balmy 59 degrees – "the near warmest February day during the last three decades", said Ryan Maue, a meteorologist for WeatherBell Analytics.
A stunning 2,805 record high temperatures have occurred across the nation this month compared with just 27 record lows.
The warmest air with respect to normal has focused on the Midwest and, in some areas, it's unlike anything they've ever witnessed.
Flower stems are sprouting in Chicago, and the Great Lakes are practically ice-free. In an area normally thick with ice, "a boat was seen skimming over the calm waters of Lake Michigan on Monday afternoon," CBS Chicago reported.
Chicago set record highs on four straight days between Friday and Monday, complementing a dizzying number of other warm weather milestones. Before Sunday, when it was 70, it had reached 70 only three other times in records dating to 1871. Then it hit 70 again Monday. And it could hit 70 once more Wednesday.
In other words, half of Chicago's February 70-degree days in recorded history are likely to occur in this one astonishingly warm week.
"The NORMAL high in Chicago does not reach 70 degrees until May 15th, which underscores how unusual this warmth truly is," explained WGN's weather blog.
Other Midwestern cities are also basking in the unusual and record-setting warmth.
After setting several daily record highs between Friday and Tuesday, Milwaukee, Madison, and Green Bay all established all-time February record highs on Wednesday afternoon:
Milwaukee hit 71, breaking the record of 68 from Feb. 11, 1999
Madison hit 68, breaking the record of 64 on Feb. 25, 2000.
Green Bay hit 65, breaking the record of 61 from Feb. 26, 2000.
Wednesday's record warmth put an exclamation mark on the springlike stretch that began late last week. Here are some more of the notable records that were set:
La Crosse, Wis., tied its all-time February record high of 65 on Sunday.
Moline, Ill., set its all-time February record high of 74 on Sunday.
Omaha set daily record highs on Thursday, Friday, Sunday, Tuesday and Wednesday.
Minneapolis set daily record highs Friday, Saturday, Sunday, and Tuesday.
St. Cloud, Minn., tied its all-time February record high of 59 Saturday.
Milwaukee and Detroit just missed, by one degree, tying all-time February record highs Saturday.
North Platte, Neb. tied its all-time February high of 79 Tuesday
Between Friday and Wednesday, Atlanta hit at least 70 degrees four times. It has accumulated a total of 20 70-degree days this calendar year, the most on record so early in the season.
On Wednesday, Dallas hit 80 for the 11th time this winter, the most on record.
On Wednesday, Kansas City hit 70 for the sixth time in February, the most on record for the month and entire winter season.
Scores of daily record highs were set between Wednesday (Feb. 15) and Tuesday from Denver to Philadelphia.
...
Lack of snow and ice
Snow and ice levels are near historic lows thanks to the warm weather.
Snow covered a mere 16.5 percent of the Lower 48 states Tuesday morning, the second lowest amount since the National Oceanic and Atmospheric Administration began keeping records in 2004. Only last year's 16.1 percent, on this date, was lower.