May 2017: Temperate and Damp



 United States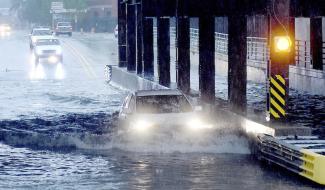 The pace of U.S. record-setting for the contiguous U.S. settled down in May, capping off a warm, wet spring, according to the monthly U.S. climate report from NOAA's National Centers for Environmental Information. May came in as the 69th warmest and 25th wettest out of 123 years of record for the 48 contiguous states. The thermal mellowness of last month shows up in the state-by-state temperature map (Figure 1). Not a single state had a top-ten warmest or coolest May, although parched Florida had its 15th warmest.
Moisture was abundant in May across the central Plains and most of the nation east of the Mississippi, apart from Florida (see Figure 2). Virginia had its second-wettest May on record, and nine other states made their top-ten-wettest-May lists: Delaware, Louisiana, New Hampshire, New Jersey, New York, North Carolina, Maine, Massachusetts, and Rhode Island.
The relatively placid May tapped on the brakes in a year that's been careening toward record territory for the contiguous U.S. Spring as a whole (March-May) was the 8th warmest and 11th wettest on record, and the year to date (January-May) is the 2nd warmest and 3rd wettest on record.
...
One strong sign that record global warmth over the last three years has been manifesting itself on the national scale: It's been almost two years since the contiguous U.S. has had a cooler-than-average month. The last one was July 2015.