'No fish': How dams and climate change are choking Asia's great lake



 Cambodia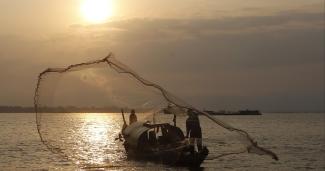 Signals Summary: Climate change is increasing the intensity of El Niño events and making drought more likely in certain regions.
---
Article Excerpt: Across the Tonle Sap, a vast shallow lake in the heart of this Southeast Asian nation, fishermen are experiencing the least productive season in memory. Years of dam-building and droughts intensified by climate change have upset one of the world's richest freshwater fisheries, carrying potentially severe consequences for millions who rely on the lake for survival.
Fishermen say they are capturing only 10% to 20% of their usual haul, and that the catches are smaller than in past years. Upstream, the waterways that feed the lake recently turned from their familiar caramel hue — rich with nutrients that sustain hundreds of species — to an unsettlingly clear aquamarine due to what experts called "extremely low flows."
...
Last summer, a drought whipped up by warmer Pacific Ocean currents — the phenomenon known as El Niño — delayed and shortened the annual monsoon rains that nourish the river system. It was the second severe El Niño event since 2016, bolstering scientists' warnings that climate change is making these storms stronger and more frequent.
In July, two months into what is typically the wet season, the depth of the Mekong fell to the lowest levels ever recorded, according to the Mekong River Commission, an intergovernmental agency that advocates for responsible management of the river's resources.
...
But the dwindling current wasn't just a result of weather. July was also the month that engineers in China and Laos carried out tests on two giant hydroelectric dams that sharply reduced the river's flow for several weeks.
...
"We really don't know the effects of all these dams and the ripple effect they will have on such an integrated river system," said Taber Hand, founder of Wetlands Work, a nonprofit environmental group in Cambodia.