October 2017: Earth's 4th Warmest October on Record
,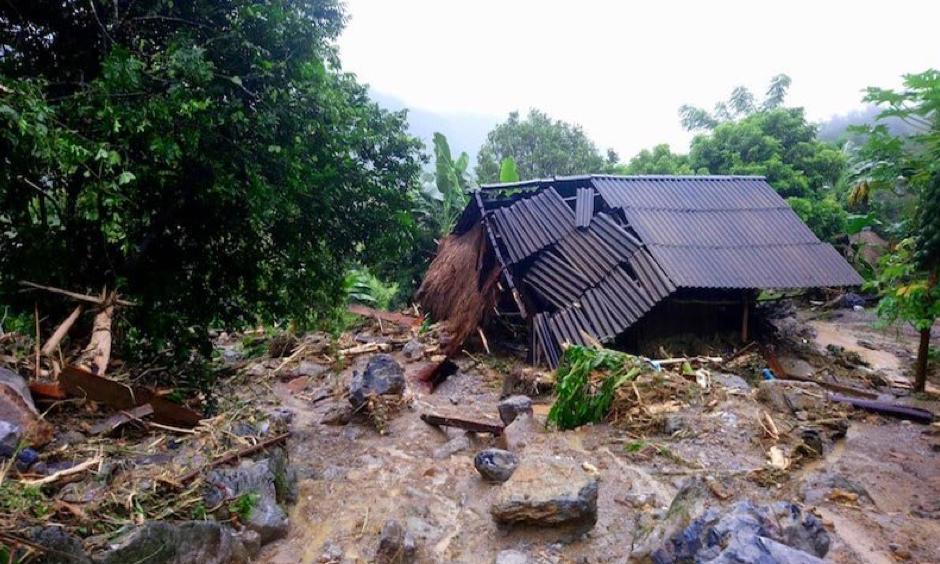 October 2017 was Earth's fourth warmest October since record keeping began in 1880, said NOAA's National Centers for Environmental Information (NCEI) on Friday. NOAA rated the five warmest Octobers since 1880 as being 2015, 2014, 2016, 2017, and 2003 (tied with 2017.)
...
The source for the data below is Maximiliano Herrera's website of weather records.
All-time national heat records set or tied in 2017:
Comoros: 96.8°F (36.0°C) at Hahaya International Airport, 15 November
Macau: 102.2°F (39.0°C) at Ka Ho, Coloane Island, 22 August (tie)
Hong Kong: 102.2°F (39.0°C) at Wetland Park, 22 August
San Marino: 104.5°F (40.3°C), at Serravalle, 3 and 9 August
Vatican City: 105.3°F (40.7°C) at Roma Macao AWS, 2 August (tie)
United Arab Emirates: 125.2°F (51.8°C), at Mezaira, 30 July
Spain: 117.1°F (47.3°C), at Montoro AEMET, 13 July
Iran: 128.7°F (53.7°C), at Ahwaz, 29 June
Oman: 123.4°F (50.8°C), at Qurayyat on 30 May and at Joba on 31 May (tie)
Pakistan: 128.3°F (53.5°C), at Turbat on 28 May (tie)
Guinea: 113°F (45.0°C), at Koundara, 29 March (tie)
Ghana: 110.8°F (43.8°C), at Navrongo, 26 March
Chile: 113°F (45.0°C), at Cauquenes, 26 January
Cocos Islands (Australia): 91.0°F (32.8°C), at Cocos Island Airport, 23 February (tie with 8 April 2015 and 11 April 1998)
All-time national cold records set in 2017:
United Arab Emirates: 22.3°F (-5.4°C) at Jabel Jais, 3 February
Qatar: 34.7°F (1.5°C) at Abu Samra, 5 February
National monthly maximum temperature records tied or beaten in 2017 (52):
Jan: Comoros, Uganda, Singapore, Mexico
Feb: Iceland
Mar: Kenya, Indonesia, Spain, Chile, Cook Islands
Apr: Ghana, Wallis and Futuna, Honduras, Samoa, Uganda, Pakistan, Cabo Verde, UAE
May: Greece, Iran, Norway, Austria
June: Mexico, Oman, Iraq, Turkey, Albania, Portugal, UAE
July: Cyprus, Comoros, Mayotte, Saudi Arabia, Indonesia, Niger
August: Iran, UAE, Trinidad and Tobago, USA, French Guiana
September: Syria, Saudi Arabia, Iceland
October: Portugal, Hong Kong, Comoros, Brazil
November: Kyrgystan, Uzbekistan, Tajikistan, Cabo Verde, China
National monthly minimum temperature records set in 2017 (2):
Jan: St. Eustatius
July: Greenland
Other records set in 2017:
World record of highest minimum temperature for March: 35.6°C at Yelimane, Mali, 31 March
Asian record of highest temperature ever recorded in April: 50.0°C at Larkana, Pakistan, 19 April
World record of highest temperature ever recorded in May (tied): 53.5°C at Turbat, Pakistan, 28 May
Asian record of highest temperature ever recorded in June: 53.7°C at Ahwaz, Iran, 29 June
Northern Hemisphere record of lowest temperature ever recorded in July: -33.0°C at Summit, Greenland, 4 July