Only 10 percent have flood insurance on hard-hit Carolina coast
,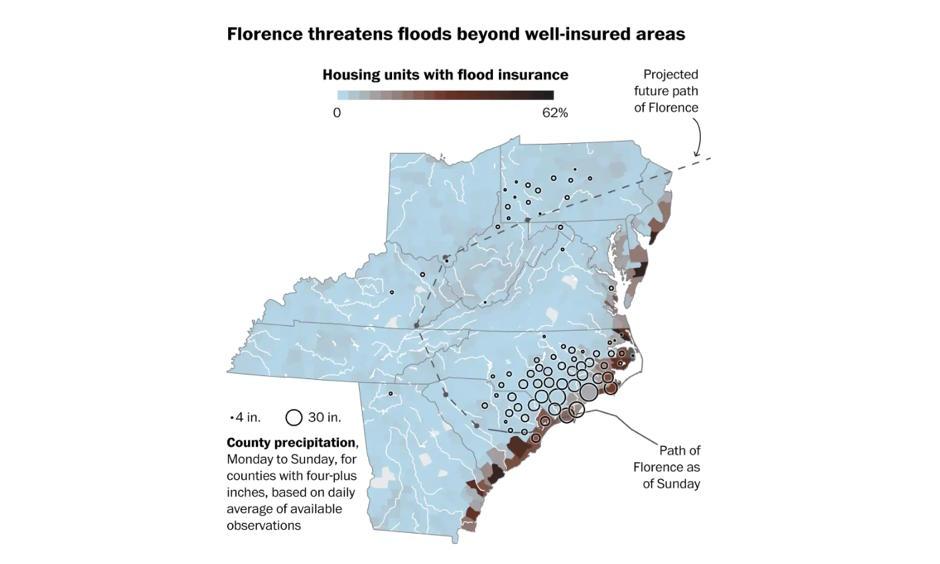 As Americans in North and South Carolina make it out of the Florence floodwaters, they face another daunting task: figuring out whether they can afford to rebuild.
Few have flood insurance in the areas with the worst destruction. Home insurance does not typically cover flooding, a fact many realize the hard way. People have to purchase a separate flood insurance policy at least a month in advance of a major storm to be eligible for reimbursement.
Only about one in 10 homes have flood insurance in the counties hit by Florence, according to a Washington Post analysis comparing the number of policies in National Flood Insurance Program datawith the number of housing units in counties hit by the storm. Milliman, an actuarial firm, found similar results.
...
Some wrongly believe they do not need insurance because they can rely on Federal Emergency Management Agency (FEMA) grants, but those cover only up to $33,000 in damages. The typical payout is a few thousand dollars. Flood insurance, in contrast, covers up to $250,000 for the home and another $100,000 for possessions.
...
"Just one inch of floodwater in a home can cause $25,000 worth of damage," David Maurstad, FEMA's deputy associate administrator for insurance and mitigation, said on CNBC on Monday. "People think their homeowner policy may cover them from flooding, and it doesn't."
Low-income families are particularly at risk. They are even less likely to have flood insurance and probably lack a financial cushion to pay for hotel rooms to ride out the storm, let alone funds to rebuild. Many low-income families will turn to FEMA for aid money, but the average FEMA grant last year in the wake of Hurricane Harvey was $4,300. That is not enough to replace a trailer home, and it is far below the average flood insurance claim of $115,000.