Paris breaks all-time high temperature as deadly heat wave grips Europe



 France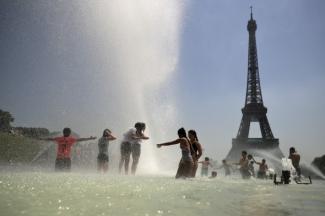 Paris joined the growing list of all-time high temperatures being broken as the second blistering heat wave of the summer gripped a wide swath of Europe.
Following the record warm start to the day, Thursday is bringing the peak of the deadly heat wave in France as temperatures soared to 42.6 C (108.7 F) in Paris. That breaks the city's all-time high temperature record of 40.4 C (104.7 F) at Parc Montsouris, set more than 70 years ago.
A day after setting these records on Wednesday, the Netherlands and Germany registered new all-time high temperatures on Thursday.
In the Netherlands, temperatures rose to 41.7 C (107.1 F) at Deelen. This is the first ever occurrence of a temperature at or above 40 C (104.0 F) in the country.
In Germany, a high of 41.5 C (106.7 F) was recorded at Lingen. Prior to this heat wave, the country's previous record of 40.3 C (104.5 F) was from 5 July 2015.