Record storm slams West Coast as tens of millions on East Coast brace for nor'easter



 Fairfield, CA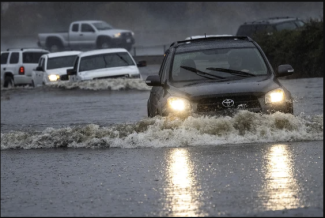 Climate Signals summary: In California, climate change has fueled an incredibly sudden turn from a historic dry streak, to historic rainfall in a matter of days. Climate change is fueling an increase in this pattern of drought to heavy rainfall, known as precipitation volatility.
---
Article excerpt:
Record-breaking rain soaked parts of California as one of the strongest storms ever to hit the West Coast moved through as the Northeast issued warnings ahead of the season's first nor'easter.
The National Weather Service in the San Francisco Bay Area on Monday afternoon called some of the rainfall reports "staggering," with 11 inches at the base of Mount Tamalpais in Marin County.
In the northeastern U.S., the governors of New Jersey and New York declared states of emergency and New York City issued a travel advisory through Tuesday afternoon.
For Sacramento, the stats are even more startling. Sacramento picked up 5.44 inches of rain Sunday, making it their wettest day in history (or any calendar month). Making this even more remarkable is that this came on the heels of a record dry streak of 212 days in a row with no measurable rain. That just ended on Oct. 18.
This example of drought to deluge, also known as precipitation volatility, is exactly what's expected to occur more frequently in California with climate change, where a moisture-loaded Pacific storm system brings a brief period of record rainfall in the middle of an extreme drought exacerbated by record high temperatures.
You can find the full story here: https://www.nbcnews.com/news/weather/record-storm-slams-west-coast-tens-millions-east-coast-brace-n1282277