Record temperatures are making wildfire season worse
,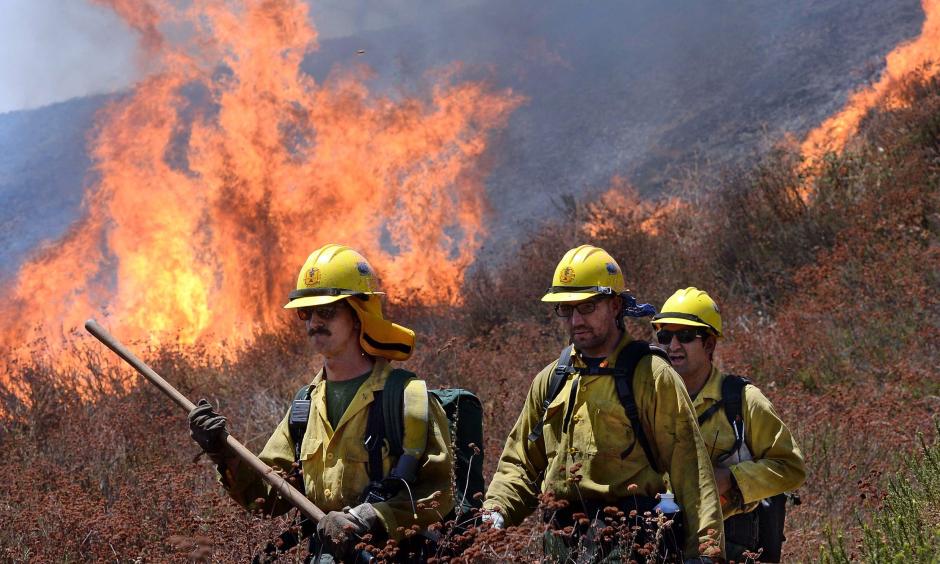 As Southern California firefighters battled the Blue Cut Fire last month, there was nothing they could do to fend off an unfortunate reality: Global warming is already lengthening wildfire season and increasing the likelihood of extreme fires across the West. And conditions will only get worse in the coming decades...
Global warming has had a profound impact on wildfire activity in the Western United States over the last few decades, according to several recent studies. And with more warming all but inevitable due to the climate-altering greenhouse gases humans have already put into the atmosphere, California and other Western states are likely to face ever-more-dangerous fire conditions going forward.
We're moving to a different kind of landscape shaped by the changing climate. What would be surprising is if you raised temperatures this much and didn't see changes in fires.

– LeRoy Westerling, a fire ecologist from the University of California, Merced who has studied the link between climate change and wildfires
The conditions for fire are getting worse. There are longer fire seasons, and the fire seasons that are more extreme are happening more frequently. All of the conditions are there for having more severe fire seasons.

– Mark Cochrane, a fire ecologist at South Dakota State University
When spring temperatures are high, snow melts faster, soils dry out, plants get into a more drought-stressed condition, and they can probably start burning earlier. We can have a longer fire season then, which means it's easier to have fires that will burn over larger areas, because they'll have more time to do so.

– Donald Falk, University of Arizona fire ecologist
Our experience is that weather pretty much dominates everything else. It can and does account for most of the variations we see in burned areas.

– Matt Jolly, a fire ecologist with the U.S. Forest Service in Montana