At a Glance
The Carr Fire is among the 10 most destructive wildfires on record in California.
Five other wildfires since October 2017 rank among the top 20 most damaging in the state's history.
Dry and hot conditions are playing a role in the growth of fires.
California has experienced six of its most destructive wildfires in just 10 months. The fires have charred more than 10,000 structures and claimed dozens of lives.
The Carr Fire near Redding has joined five other large fires since Oct. 2017 on the state's 20 most destructive wildfires list. As of Wednesday evening, the Carr Fire had destroyed over 1,500 structures and killed six people, ranking as the sixth most destructive wildfire.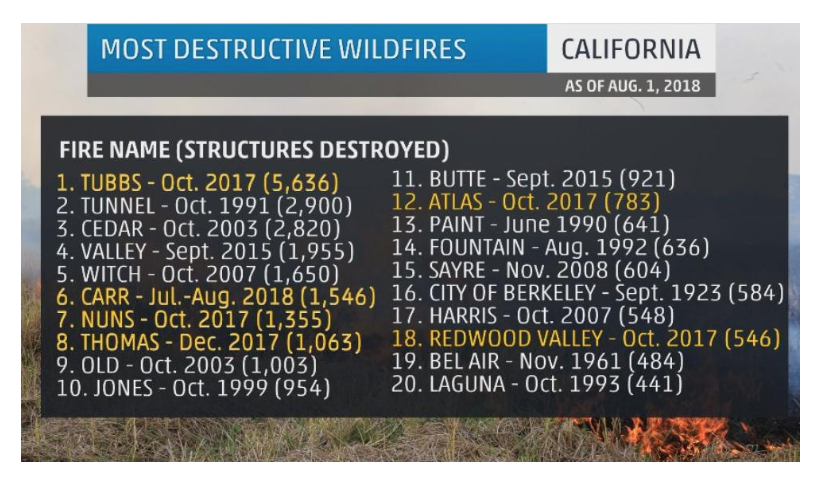 Last December's Thomas Fire and four wildfires from October 2017 – Tubbs, Nuns, Atlas and Redwood Valley – are also on the top 20 list.
These six wildfires have destroyed 10,929 structures and killed 48 people. The Tubbs Fire in Sonoma County last October is the worst of them all, accounting for 5,636 of the destroyed structures and 22 deaths.
...
This summer's wildfires come on the heels of California's second-driest winter (Dec. 2017-Feb. 2018) and persistent warmer-than-average temperatures.
Many cities in California are experienced one of their hottest Julys on record. Redding had its third hottest July on record.
Because of this, vegetation moisture is at record or near-record lows for late July in parts of the state, according to Dr. Daniel Swain, a UCLA climate scientist.
The combination of dry vegetation, hot temperatures and gusty winds make explosive wildfire growth like with the Carr Fire more likely to occur.