Slow-Moving Atlantic Storms Like Imelda and Dorian are Growing More Common



 Bahamas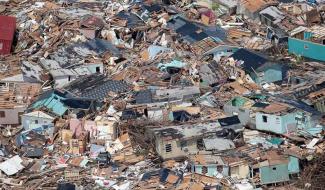 Recovery efforts are underway in southeast Texas after the devastating rains unleashed last week by Tropical Storm Imelda, the fifth-wettest tropical cyclone in continental U.S. history. Imelda made landfall as a minimal tropical storm with 40 mph winds southwest of Galveston, Texas, on September 17, less than two hours after getting named. At landfall, Imelda was traveling northward at just 5 mph, and it maintained a generally northward motion at between 3 and 7 mph for the next 48 hours, gradually weakening. This excruciatingly slow pace allowed Imelda to dump rains of up to 43.39" over southeast Texas, causing catastrophic flooding that killed five. Imelda's price tag will undoubtedly be in the billions.
This year's strongest storm, Hurricane Dorian, also moved agonizingly slowly at landfall when it pounded The Bahamas. Dorian meandered at less than 2 mph as a Category 5 hurricane over Grand Bahama Island and Great Abaco Island, causing catastrophic storm surge, wind, and fresh-water flooding.
...
Joining Dorian and Imelda in the slow-motion catastrophic Atlantic storm club in recent years were Hurricane Florence of 2018 and Hurricane Harvey of 2017.
...
Hawaii has also seen a record-breaking slow-moving hurricane recently—Category 5 Hurricane Lane. From August 22 - 25, 2018, Lane slowed from a forward speed of 9 mph to 3 mph just west of the Big Island, which recorded the second-highest rainfall on record from a U.S. tropical cyclone: 58.00". Though Lane never made landfall, its rains made it Hawaii's third costliest hurricane ever, with damages of $250 million.
...
A slow-motion hurricane catastrophe also hit Africa this year, as Tropical Cyclone Idai made landfall near Beira, Mozambique on March 15 as a Category 2 storm.
...
Imelda, Dorian, Florence, Harvey, and Idai are examples of storms we have been seeing more often in recent decades: ones that move more slowly over land, resulting in increased flooding and damage. The forward speed of tropical cyclones (which includes all hurricanes, tropical storms, and tropical depressions) has decreased globally by about 10% since 1949, according to a 2018 paper in the journal Nature by NOAA hurricane scientist Dr. Jim Kossin.