Soberanes Fire finally contained



 United States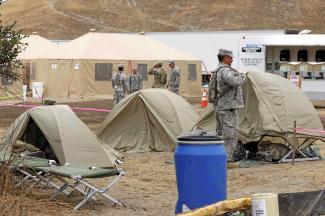 After crews cleared one of the final obstacles to containing the Soberanes Fire by establishing a containment line north of Ventana Cone in Los Padres National Forest, the fire was declared fully contained by Wednesday evening.
No signs of heat had been detected within the past five days in the rocky area that had some of the last uncontained hot spots of the fire.
...
In a statement issued Wednesday night by Los Padres National Forest and Central Coast Incident Management Team, officials warned that while the fire is contained, it doesn't mean the fire is 100 percent controlled.
"The public should be aware that smoldering areas within the interior will continue to put up smoke," the statement read. "The fire will be determined completely controlled after a season-ending rain event occurs in the next two months."
The fire, which started July 22 in Garrapata State Park from an illegal, unattended campfire, was expected to be contained by Saturday. It has burned 132,127 acres. It destroyed 57 homes and 11 outbuildings. A total of 626 personnel and 11 engines remain fighting the fire.