Stalking wildfires to capture the horrible beauty of climate change
by
Columbia Journalism Review
,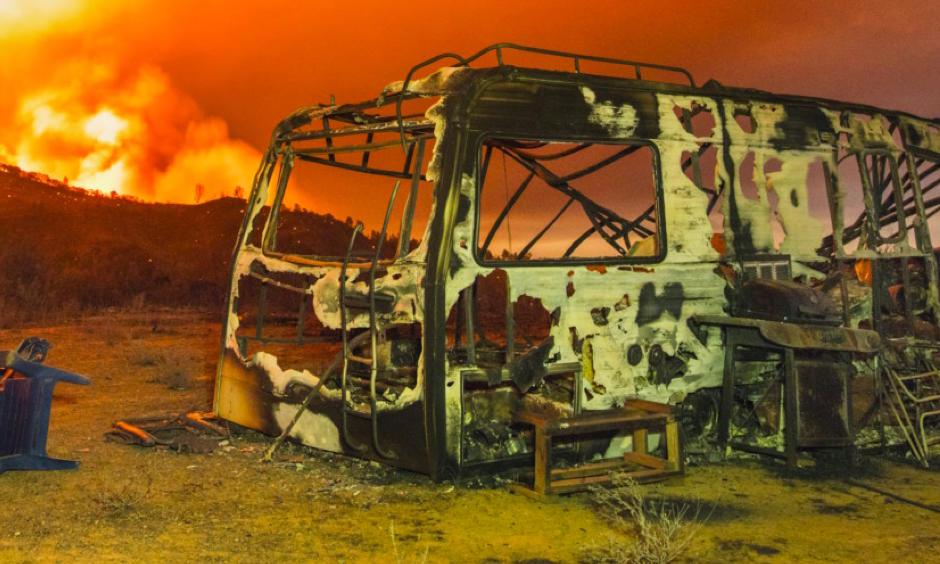 At around 3 am on November 9, 2018, photographer Stuart Palley stood on the sidewalk of a residential street in Thousand Oaks, California. A wildfire known as the Hill Fire was burning down from the foothills, driven by Santa Ana winds and fueled by unseasonably hot and dry conditions. Palley had been on the scene for 13 hours. His fire-proof clothing, boots, and helmet were covered in soot.
"I had a gut feeling something was about to happen," Palley says. "I saw a firefighter pounding on the front door of one home and I thought, 'Holy shit, somebody's still inside.'"
Palley raised his camera just as the resident came running out of the front door wearing only his boxer shorts and a T-shirt, wincing at the flames around him as he fled. Palley snapped a picture that Time magazine named one of the top 10 photos of 2018.
...
The Hill Fire ultimately burned 4,500 acres, destroyed 4 homes, and caused 17,000 people to be evacuated. It was a mere firecracker compared to two other major fires, the Woolsey and Camp fires, that burned a combined 250,000 acres that same month, destroying over 20,000 structures and killing 88 people. Palley covered those fires, too, capturing night scenes that are the trademark of his long-term photography project, Terra Flamma.