Summer was blazing hot — but not in Seattle



 United States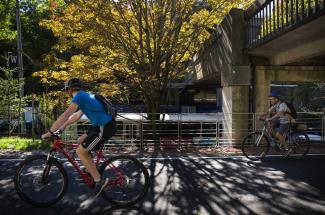 Though the mean average temperatures for June, July and August were slightly above normal, with some record-breaking hot days, overall it was fairly typical, according to the National Weather Service of Seattle...
That contrasts sharply with much of the rest of the country, and even the world, which experienced record heat, drought, deadly floods and other extreme weather disasters.
In Seattle, June's mean temperature was 2.6 degrees above the normal mean of 60.9, July's was 1.1 degrees above the normal of 65.7, and August was 2.5 degrees above the mean normal of 66.1.
August was a little drier than average, and precipitation was close to normal in June and July, according to the weather service...
Twelve U.S. cities had their warmest summers ever, including Las Vegas, New Orleans, Cleveland and Detroit. The globe had its hottest month on record (July) and hottest summer on record. August was the 16th consecutive month Earth set a monthly heat record, according to NOAA.
NASA chief climate scientist Gavin Schmidt said the records keep showing the planet warming and "since we kind of predicted these things we know what we're talking about."
Across the country, there was also something "sneaky" about the summer heat: It didn't ease at night, said Deke Arndt, climate-monitoring chief at the federal National Centers for Environmental Information in Asheville, N.C.
He said that when temperatures drop to below 72 degrees at night, it allows the body to recharge, plants to grow and air conditioners to be shut off. But this year that didn't happen enough