The Supermoon, Global Warming, and Flooding: A Taste of Things to Come



 United States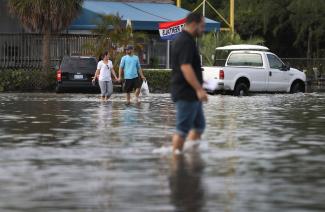 There is one real thing about the "Supermoon": It causes flooding. But it needs help in the form of global warming...
The basic idea is that we get a "Supermoon" when the Moon is full at the same time it's also at its closest point to Earth in its orbit. According to the lore, the Moon will look bigger and be brighter.
...
[T]he "Supermoon" pulled a double whammy: It was closer than usual, and full, so tides were especially high earlier in the week. We had, and still this week are still having, proxigean spring tides.
If things were normal, that would be bad enough. Coastal areas prone to flooding see higher tides twice a month due to spring tides, and also higher tides once a month from the proxigean tides. When they line up it's worse, but generally not catastrophic.
Unless, that is, a third force comes along. For example, if this happens when there's a storm, off shore, things can get very bad. Low-pressure systems (like hurricanes or just big storms) draw water toward their centers. If one comes ashore, this can create a storm surge, inundating low-lying areas.
But there's yet another factor here, and it's the most pernicious of all: sea level rise.
Global warming is melting ice at the poles (yes, at both poles), and also causing water in the oceans to expand. This is causing the sea levels to rise up over time, by about three millimeters per year. That may not sound like much, but it adds up, year after year. It's risen 85 mm — over three inches — just since 1993!
As Tamino points out at the Open Mind blog, this alone is enough to cause flooding in coastal areas like Miami and Boston during a normal high tide.
Proxigean tides aren't normal; they are extra strong. That's why the NOAA issued a coastal flood warning not just for Monday but for this whole week up until tonight. It's not until then that the Moon moves away enough both from the Earth and the Earth/Sun line to weaken tides sufficiently to relent on flooding.
But there was flooding, in Portland, Maine, Charleston, South Carolina, and many other locations. From what I can find it was bad but not devastating. It's what Tamino calls nuisance flooding, and — pardon the expression — it's on the rise.
In other words, and to be very clear: Global warming is causing sea level rise, which is causing more flooding all the time, and it will get worse. A lot worse.