Swath of States Experiencing Hottest Year to Date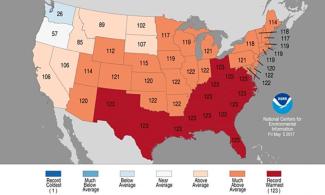 For a swath of states from New Mexico over to Florida and up to Ohio, 2017 has been the hottest year on record through April. For the Lower 48 as a whole, the year is the second warmest in records going back to 1895.
State temperature ranks for January through April 2017. Red states were record warm for the year to date.
Click image to enlarge. Credit: NOAA
Several states in the mid-Atlantic had their hottest April on record and a few Southeastern states were near-record warm, according to National Oceanic and Atmospheric Administration data released Monday.
The average temperature for the contiguous U.S. through April was 43.7°F (6.5°C), 4.5°F (2.5°C) above the 20th century average, NOAA said. This put the four-month period behind only 2012, which saw major heat waves and drought across much of the central part of the nation.
The exceptional heat of February is what's keeping 2017 so high in the rankings, Jake Crouch, a NOAA climatologist, said in an email. With eight months left, though, it is unclear whether 2017 will stay warm enough to ultimately beat 2012 as the hottest calendar year for the Lower 48.