Temperatures surge into upper 80s, setting records in D.C. region



 United States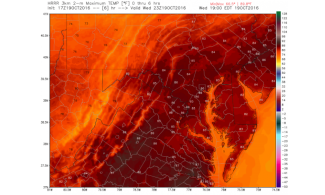 Temperatures in the D.C. region Wednesday afternoon hit levels typical of the height of summer — surging to 86 or 87 degrees.
For a second straight day, the temperature at both Dulles International and Baltimore-Washington International Marshall airports set record highs.
Through 3 p.m., Dulles had climbed to 86 degrees, easily besting the record of 83 from 1991 and 1963.
Baltimore had shot up to 87, shattering the record of 82 from 1947 and 1908.
Reagan National Airport had also hit 87 degrees, but was one degree shy of the record high of 88 from 1938. The 87-degree reading ranks as the second warmest temperature on this date in 146 years of records (records for this site were kept at 24th and M St. before National Airport opened in the 1940s).
Dulles has now registered record highs on three consecutive days. On Monday, it hit 83, tying the record from 1963. On Tuesday, it topped out at 85, passing the previous record of 82 from 2007 and 1963.
Baltimore hit 84 Tuesday, two degrees above the record high of 82 from 2007 and 1963.
...
The unusually warm weather in the D.C. area expands through the Northeast, where temperatures were rising above 80 degrees.
Records were broken at reporting stations all over the New York City area, mostly in the mid-80s. Providence, R.I. had also set a record of 83 degrees.