Texas has never seen an event like this, could be the worst flooding disaster in US history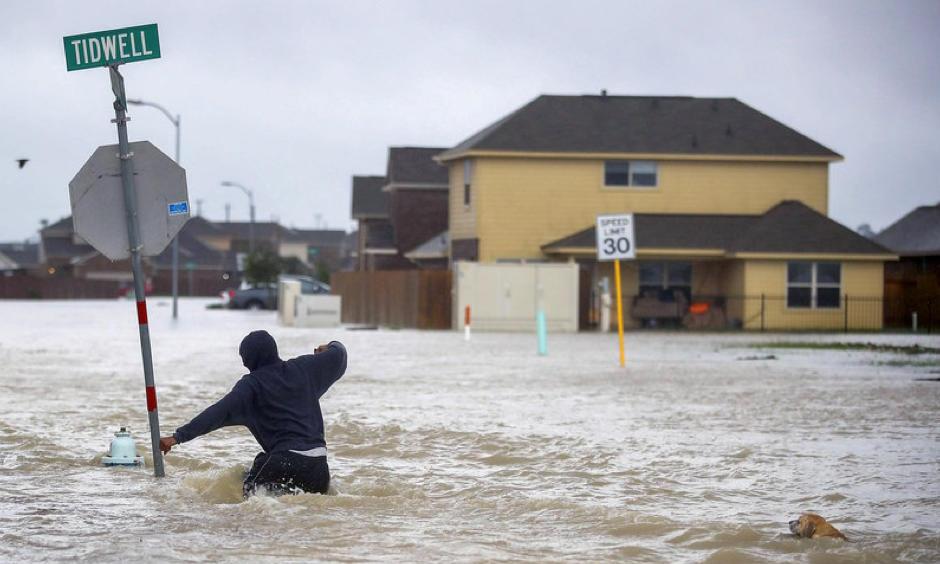 Tropical Storm "Harvey" formed on August 17 and moved swiftly westward into the Caribbean Sea under the influence of an expansive ridge of high pressure to its north. It was downgraded to a tropical depression at 21:00 UTC on August 19, and six hours later, it was declared an open tropical wave. A reconnaissance aircraft investigating its remnants at 15:00 UTC on August 23 indicated that it once again acquired a well-defined center, and the NHC upgraded it to a tropical depression accordingly. The system began to slowly consolidate amid an increasingly favorable environment, attaining tropical storm intensity by 06:00 UTC on August 24.
Further deepening occurred as the storm approached the coast of Texas, with Harvey becoming a Category 4 hurricane at 23:00 UTC on August 25, based on reconnaissance aircraft data. Around 03:00 UTC on Saturday, August 26, the hurricane made landfall at peak intensity over the northern end of San Jose Island, about 6 km (4 miles) east of Rockport with winds of 215 km/h (130 mph) and an atmospheric pressure of 938 hPa. Harvey became the first major hurricane to make landfall in the United States since Wilma in 2005 and the strongest in terms of wind speed to hit the country since Charley in 2004. It was the first hurricane to strike Texas since Ike in 2008, the first major hurricane in the state since Bret in 1999, and the strongest in Texas since Carla in 1961.
In Houston metro area, days of heavy rain caused unprecedented and catastrophic flooding, with parts of southeast Houston recording more than 610 mm (2 feet) of rain in just 24 hours. Houston Mayor Sylvester Turner said that as of 17:00 local time Sunday, August 27, the city received nearly 6 000 calls for rescues and that more than 1 000 have been rescued. As of early August 28, at least 5 persons lost their lives, but flooding is still not over as Harvey is now expected to move slightly off the coast and make another landfall on Wednesday, August 30.
"After checking the rain gauge, a new daily rainfall record was set at the NWS Office of 426.7 mm (16.08 inches) beating yesterday's record of 365.7 mm (14.40 inches)," NWS Houston said today.
"A record daily max rainfall of 408.17 mm (16.07 inches) was set at Houston Intercontinental yesterday, breaking the old record of 211.32 mm (8.32 inches) set in 1945," the office said, adding that from January 1, 2017 to August 27, 2017, Houston IAH received 1 172.46 mm (46.16 inches). Since annual average rainfall is 1 264.15 (49.77 inches), that makes almost a year of rain in just 3 months. For comparison, the most rain from an Atlantic tropical cyclone or its remnants is 1 219 mm (48 inches) from Tropical Storm "Amelia" in 1978.