The Thomas fire is now the second largest in modern California history



 United States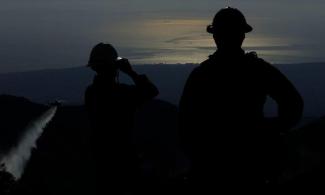 After a brief respite from the relentless gusts that have driven the deadly Thomas fire for more than two weeks, powerful winds are expected to return, adding to the challenges facing firefighters working to contain the mammoth blaze.
The fire, which began near Santa Paula in the foothills above Thomas Aquinas College on Dec. 4, has burned through 272,000 acres as of Tuesday evening, making it the second-largest wildfire in modern California history.
On Tuesday, the Thomas fire surpassed the lightning-sparked Rush fire, which burned 271,911 acres in Lassen County in 2012.
The Thomas fire was 55% contained, and fire officials do not anticipate full containment until Jan. 8, according to the California Department of Forestry and Fire Protection.