Tropical Depression Harvey Is Threatening Texas with Major Flooding
by
Hurricane Hal's Storm Surge Blog via WxShift
,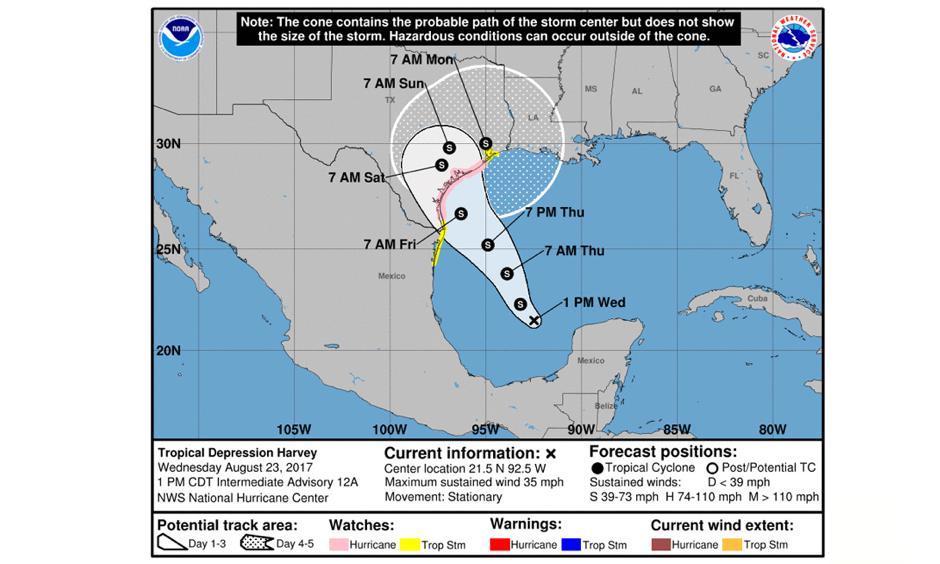 Main Points
Harvey likely to develop into a tropical storm today or tonight;
All major models bring Harvey towards the Texas coast;
Harvey may stall out near the coast or slightly inland;
The most certain impact is major flooding from days of torrential rain and compound rain/ storm surge
...
Duration
Most models show Harvey slowing down and stalling near the Texas coast or slightly inland. This could mean that rain, wind and surge impacts are felt from late Friday until Tuesday.
...
Avoid Looking at the Category
A lot of people are talking about what "category" Harvey will be. They are referring to the Saffir-Simpson Hurricane Wind Scale, which classifies hurricanes on a scale of 1-5. This category system is misleading and people who make decisions based on the category are often shocked by unexpected storm impacts.
The category is only based on maximum sustained winds. It says nothing about heavy rainfall potential. It says nothing about storm surge potential.
Hurricanes and tropical storms throw three hazards at us: wind, rainfall and storm surge. Think of the impacts separately. Storms with weaker winds are more likely to stall and dump heavier rainfall. This shocks people, as it would seem intuitive that a Category 5 hurricane would tend to dump more rain than a Category 1 hurricane. But the opposite is true.
The category is only for one hazard: maximum sustained wind. Storms are too complex to define by one number.