Typhoon leaves six dead, 185 injured
,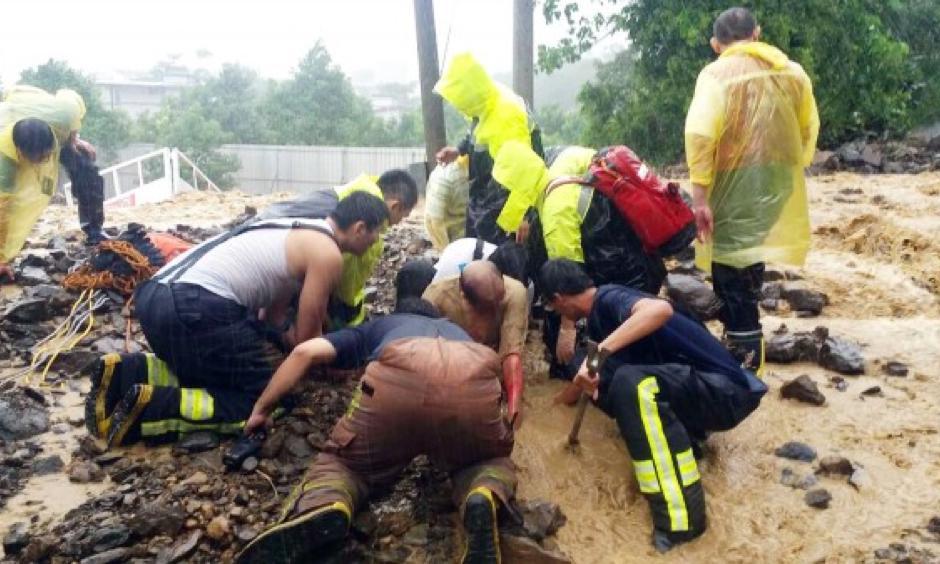 Typhoon Soudelor ravaged the nation yesterday, bringing strong winds and heavy downpours, with the storm claiming four more fatalities, bringing the death toll since Friday to six. At least least 185 people were injured as of press time last night.
Casualties recorded on Friday and yesterday included a male foreign worker in Yilan County who was killed by a falling sign late on Friday evening, according to information from an intergovernmental ad hoc meeting at the Central Emergency Operation Center.
...
Four people were missing as of press time, including two residents of New Taipei City's Sansia District (三峽), whose house was destroyed by an overflow of the Jhulun River, and an eight-year-old girl who was swept to sea from a beach in Yilan on Thursday, the center said.
Power outages caused by strong winds were reported nationwide between Friday night and yesterday morning. The Ministry of Economic Affairs said that about 3.5 million businesses and households experienced a blackout during the period.
...
In Taipei, strong winds and debris shut down the above-ground portions of the city's MRT system — Line 1, the Wenhu Line (文湖線); and Line 2, the Tamsui-Xinyi Line (淡水信義線), north of MRT Minquan W Road Station (民權西路). Fifty bus routes running through mountainous areas were also halted.
More than 62,000 households in the city yesterday were left without power at some point yesterday, and 14,000 without water, while 25 people were injured.
Strong winds in Taipei also felled more than 2,400 trees, forcing a halt to garbage collection for a second day to enable the Department of Environmental Protection to focus on clearing roads.
According to the Ministry of the Interior, the typhoon felled at least 3,710 trees and 1,025 signs, and caused flooding in 186 areas nationwide.
The ministry said the armed forces . . . had helped to evacuate 3,365 people from at-risk areas as of last night.
On the impact the typhoon to the nation's animal husbandry and farming, the Council of Agriculture said the two sectors suffered losses totaling more than NT$118 million.