U.S. Northeast Braced For Severe Weather
New York, NY
Boston, MA
Delaware
Pennsylvania
Illinois
New Jersey
District of Columbia
by
TIME via Associated Press
,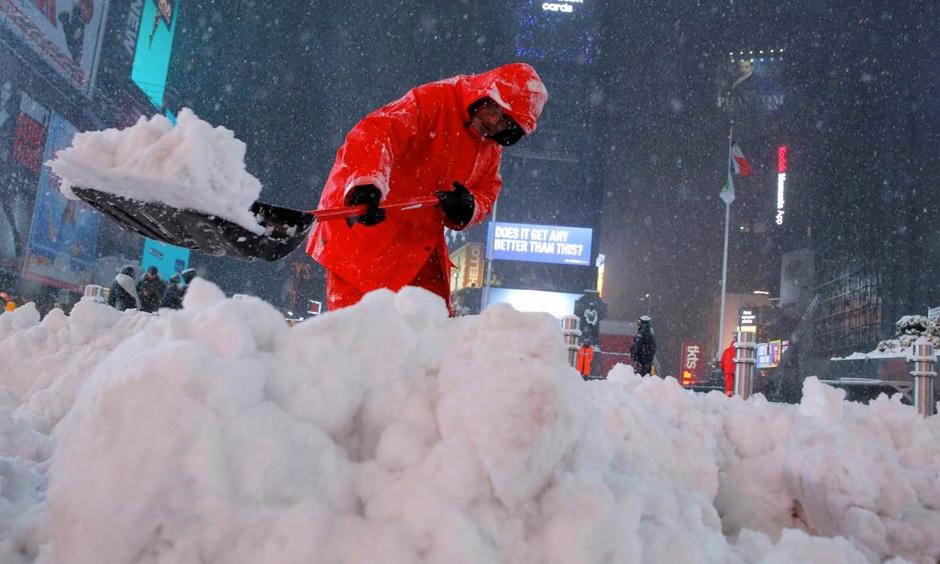 A storm expected to drop more than a foot of snow pounded the Northeast on Tuesday, paralyzing much of the Washington-to-Boston corridor after a remarkably mild February had lulled people into thinking the worst of winter was over.
The powerful nor'easter grounded more than 5,000 flights, closed schools in cities big and small and prompted dire warnings to stay off the roads.
Blizzard warnings were issued for parts of Pennsylvania, New Jersey, New York, Connecticut, Rhode Island, Massachusetts, New Hampshire, Maine and Vermont.
...
The storm was expected to unload 12 to 18 inches of snow on the New York City area with wind gusts up to 55 mph. It tracked a little farther west than forecasters originally anticipated, resulting in a sloppy mix of snow and freezing rain for larger portions of Pennsylvania and New Jersey.
The National Weather Service's office near Philadelphia called the storm "life-threatening" and warned people to "shelter in place." Coastal flood warnings were in effect from Massachusetts to Delaware.
The flight cancellations included more than 2,800 in the New York City area alone, where about 200 passengers were stranded at Kennedy Airport. Amtrak canceled or modified service up and down the Northeast Corridor. And the above-ground portions of the New York subway system were being shut down.
In the nation's capital, the federal government announced a three-hour delayed arrival for non-emergency employees, with an option to take the day off or telecommute. Emergency employees were told to report on time unless otherwise directed.
New York Gov. Andrew Cuomo declared a state of emergency for the entire state and instructed non-essential state employees to stay home.
...
Pennsylvania Gov. Tom Wolf said about 700 National Guard members would be deployed along with more than 2,000 snowplows to keep up with the storm.
In Illinois, state police said snowy weather caused two crashes on a Chicago expressway that involved a total of 34 cars. Seven people suffered minor injuries.