Publication Date July 27, 2016

U.S. Warm Records Are Trouncing Cold Records by 4 to 1 Margin in 2016



 United States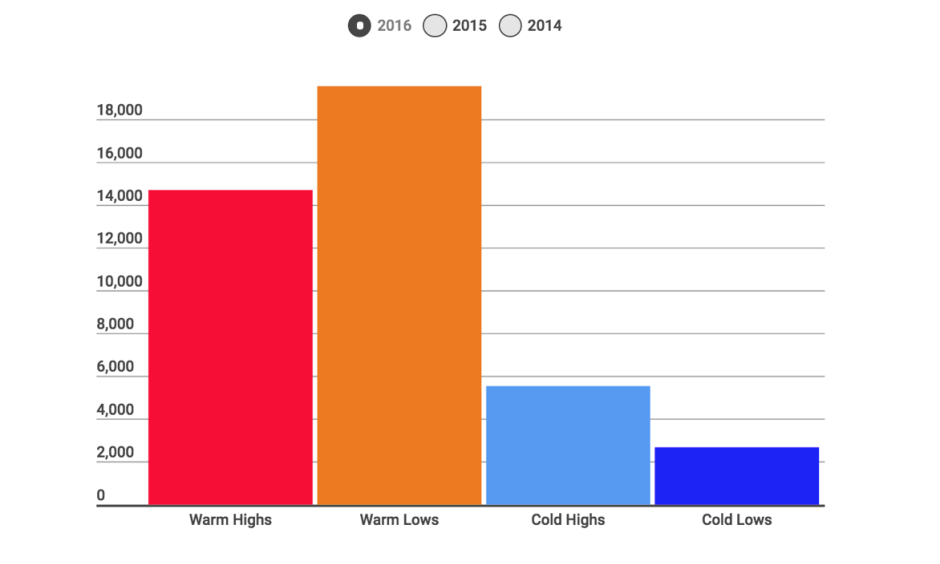 NOAA found the first six months of 2016 were the third-warmest such period on record in the Lower 48 states, topped only by January through June 2012 and the same period in 2006.
In 2015, there were just over 50,000 more daily warm records set or tied than cold records. A colder 2014 featured over 8,500 more daily cold records than warm records in the U.S., primarily in the nation's midsection and parts of the South.
This is consistent with a 2009 study by scientists at the National Center for Atmospheric Research (NCAR), Climate Central, NOAA and a former meteorologist at The Weather Channel, Guy Walton.
Lead by NCAR senior scientist Dr. Gerald Meehl, the study found the ratio of warm records to cold records in the U.S. had risen since sharply since the 1970s, primarily due to fewer cold records relative to warm records