Venice Flooding Is Worst in a Decade; Severe Weather in Italy Kills at Least 9
Venice, Metropolitan City of Venice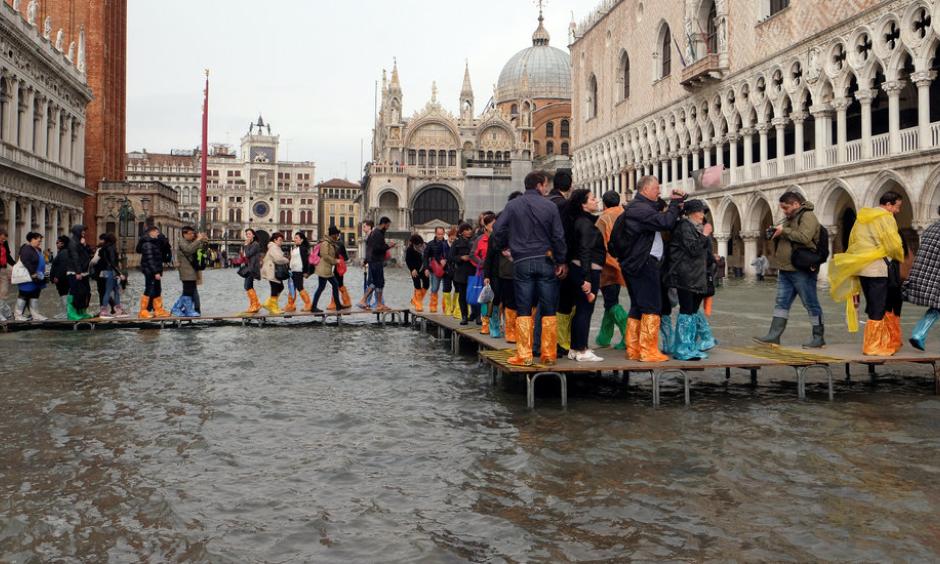 Violent thunderstorms, small tornadoes that blew roofs off homes, and winds equivalent to a Category 3 hurricane lashed Italy from Piedmont to Sicily early this week, leaving at least nine people dead, many injured, and firefighters and other rescue workers scrambling to respond to emergency calls.
In Venice, ferocious winds drove the high tide to more than 61 inches, or 156 centimeters, above average sea level on Monday, one of the highest levels ever recorded, plunging much of the city under water.
...
Some tourists decided to go for a swim in the historic Saint Mark's Square, in front of the city's cathedral.
...
Winds reached 112 miles per hour in Liguria, on Italy's northwest coast, one of the hardest-hit regions. The Italian news agency ANSA described a "massacre of yachts" in the town of Rapallo, near Genoa, where dozens of boats moored in the port broke loose and crashed against the shore, or were driven out to sea.
Hundreds of people were evacuated from their homes in towns in the mountainous Trentino-Alto Adige region, northwest of Venice, after rivers rose over their banks. Newspapers described fish swimming in the streets of one town.
In some places, hillsides soaked by heavy rain gave way.