Warmest Winter in U.S. History So Far
,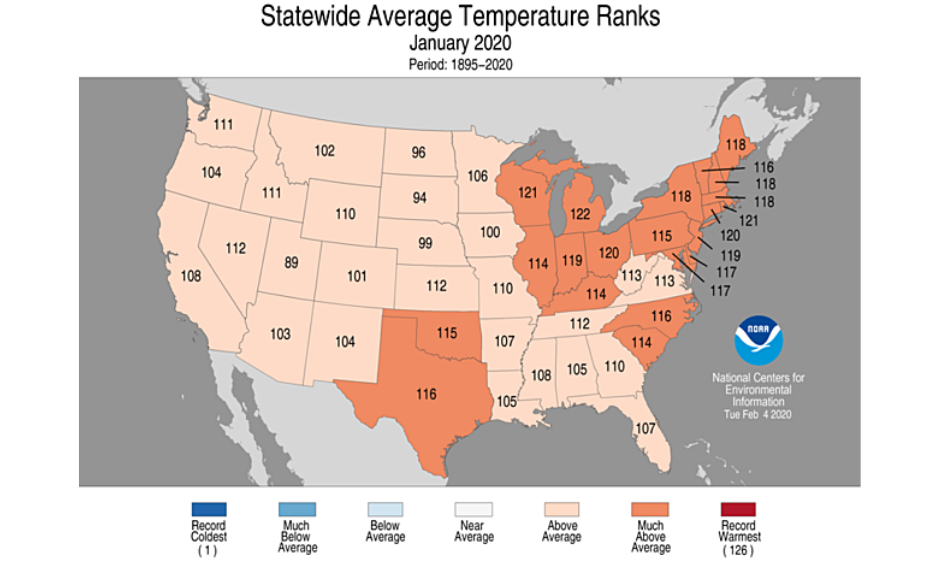 Signals Summary: Climate change is increasing temperatures in all seasons, and leading to shorter and warmer winters.
---
Article Excerpt: The first two months of meteorological winter (December 2019 – January 2020) were the warmest on record for the contiguous U.S. in data going back to 1895. NOAA provided the January data and images on Thursday ahead of its monthly U.S. climate report.
...
Across the contiguous U.S., this winter so far is running about 4.5°F warmer than the average winter of the 20th century.
The nation saw its fifth warmest January on record, following the sixth warmest December.
Even though neither month was record-warm on a national or state level, the mild conditions were prolonged enough to top the national list when the two months are combined.
The warmth was also usually widespread. Not a single one of the Lower 48 states had a below-average temperature in December, and the same was true in January. Thirteen states had a top-ten-warmest January, including every New England state except Vermont.
...
January was yet another month of above-average precipitation for the Midwest, where ample snowpack atop frozen, saturated ground is setting the stage for what could be another rough spring of river flooding. The North Central River Forecast Center will issue its first spring flood outlook of the year on Thursday, February 13.
Some of the most concerning floodways are the Red River of the North bordering North Dakota and Minnesota; the James River in eastern South Dakota; and the upper and mid-Missisissipi River.