Why are California's wildfires so historic? For starters, a diablo is at work.



 United States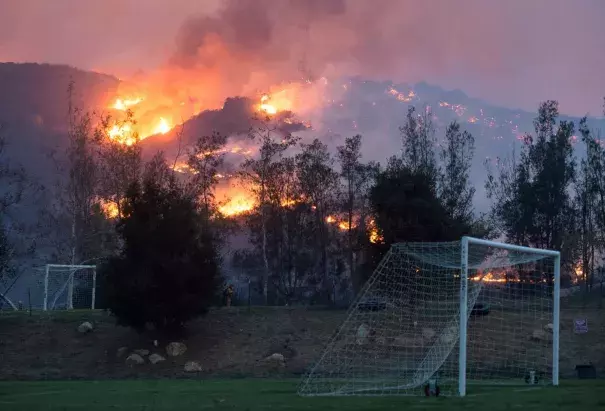 Why is California burning? One answer is simple: California always burns.
But this latest inferno — three wildfires eating at the hills in and around Los Angeles, the nation's second-largest city — is frightening even for people who are accustomed to big burns. What's more, it follows the state's deadliest fire on record by only a few weeks.
It gets even worse. The recent Sonoma County fires north of San Francisco that left more than 40 people dead, and the current Thomas Fire that has destroyed 800 structures and damaged or threatens more than 18,000 others in the Santa Barbara area, are so bad that they've rendered last year's horrid Blue Cut Fire that wiped out more than 300 homes near San Bernardino a distant memory.
California Gov. Jerry Brown (D) appeared stricken in an address to his state, calling the gargantuan blazes "the new normal" in one sentence and "the new reality" in another, before finally saying: "With climate change, some scientists are saying California is literally burning up."
...
In August last year, Columbia University's Earth Institute released a study that offered evidence that global warming has contributed to California's drought. The year before, a Stanford University study led by associate professor Noah Diffenbaugh used historical data from the U.S. National Climatic Data Center to conclude that the state will experience more drought as its climate continues to warm.
Dry doesn't begin to describe what California is right now. The state emerged from an unprecedented five-year drought only last year. Consider these recent headlines about what it wrought: Scientists say California hasn't been this dry in 500 years. As water runs dry, Californians brace for a new way of life. California's terrifying climate forecast: It could face droughts nearly every year. Wild animals in drought-stricken western states are dying for a drink. Millions of pine trees on hillsides are dead and bone dry.