Publication Date July 17, 2019

Widespread, oppressive and dangerous heat to roast much of the U.S. through the weekend



 United States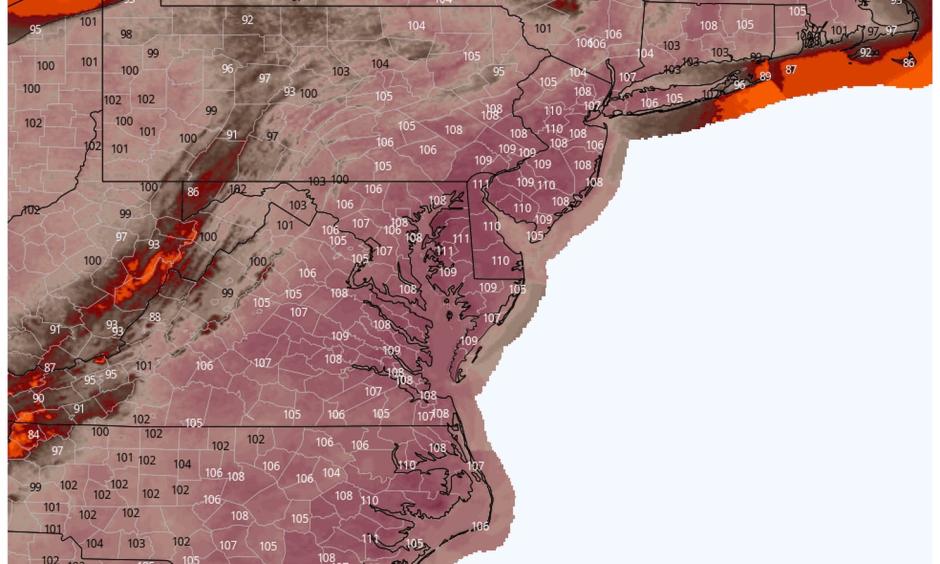 A heat wave featuring a life-threatening combination of heat and oppressive humidity has begun to spread across the United States, with excessive heat warnings and heat advisories in effect for at least 22 states and the District of Columbia. According to the National Weather Service, 51 percent of the Lower 48 states are likely to see air temperatures reach or exceed 95 degrees during the next seven days, with 85 percent experiencing temperatures above 90 degrees during the same period.
...
The moisture from former Hurricane Barry, drawn out of the Gulf of Mexico through the South, is intensifying the humidity levels over a sprawling area.
...
The heat index in Washington, for example, is forecast to peak around 110 degrees on Saturday, with similarly sweat-inducing readings predicted for the so-called "Acela Corridor," up through Philadelphia and New York. Chicago could see a heat index of near 113 degrees on Saturday.
Because this is typically the hottest time of the year, it's difficult to break daily and all-time high temperature records, so a wave of new temperature benchmarks are not expected. However, this event will be remembered for its wide geographic scope, stretching from the Plains to the East Coast, as well as the high overnight low temperatures that stand a better chance of breaking records.
In New York, the temperature may not fall below 80 degrees at night between Friday and Monday.
Overnight low temperatures are important for determining the health impacts of a heat wave, since the human body needs a respite from hot conditions to stave off heat-related illnesses. The most vulnerable populations to heat waves include the elderly, those with chronic health conditions, athletes who practice outdoors, and children.
Extreme heat is the deadliest form of extreme weather in the United States, beating hurricanes and floods in a typical year.