Wildfires Plague Central United States
,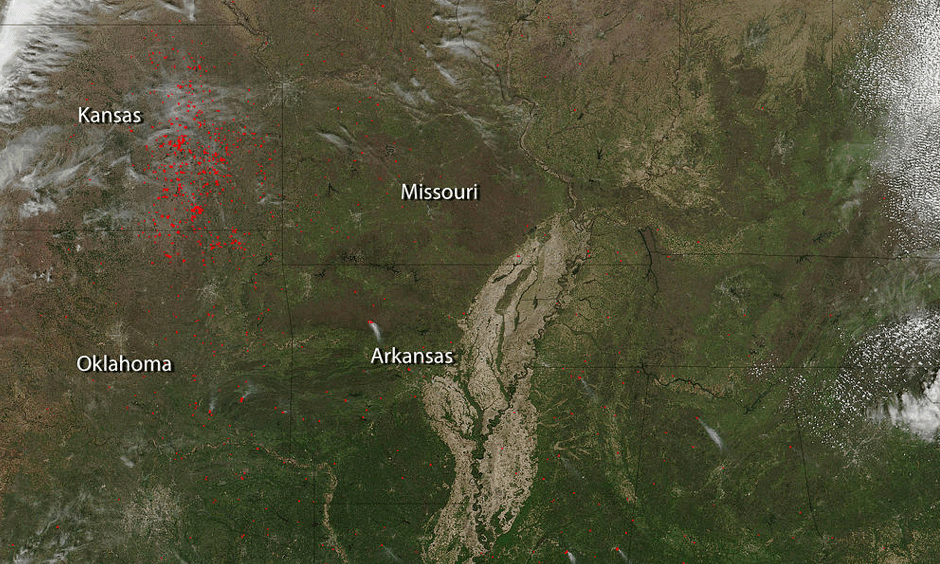 The U.S. Department of Agriculture says wildfires from March and April 2017 in Kansas burned about 650,000 acres with the Starbuck fire breaking records as it burned around 400,000 acres. Of Kansas's 105 counties, 22 were affected by wildfires and estimated livestock losses are between 3,000 and 9,000 cattle. About $36 million worth of fencing was also destroyed. In Oklahoma, where nearly 400,000 acres burned and the livestock loss was estimated at 3,000 head of cattle. Structure losses were estimated at $2 million with fencing losses at $22 million.
There are a huge number of fires detected in Kansas in the Flint Hills — however, at this point much of it is probably controlled burning by landowners trying to burn out excess fuels in case more wildfires start up.
Combined, the wildfires have scorched more acres than that of the Grand Canyon National Park.
NASA's Suomi NPP satellite collected this natural-color image using the VIIRS (Visible Infrared Imaging Radiometer Suite) instrument on April 07, 2017. Actively burning areas, detected by MODIS's thermal bands, are outlined in red. NASA image courtesy Jeff Schmaltz LANCE/EOSDIS MODIS Rapid Response Team, GSFC. Caption by Lynn Jenner