Australia Record Heat 2017



 Australia
Australia kicked off 2017 with a series of record-breaking heat waves across many eastern parts of the country. The most notable feature of the extreme heat event was its persistence. The town of Moree near the Queensland border recorded 41 consecutive summer days, as of February 5, with high temperatures of 95°F (35°C) or more, smashing the previous record of 17 consecutive days in the summer of 1981-82.
The impact of global warming is clearly observed in a distribution shift of daily weather, as well as shifts in monthly and seasonal climate, to higher temperatures. In Australia, climate change has been shown to drive longer, hotter and more intense heat waves.
Get the details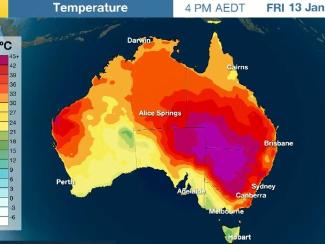 New South Wales and southern Queensland experience record temperatures in early 2017
January 2017 was an extraordinarily hot month for southern Queensland and New South Wales. A large area of southern Queensland had overnight temperatures that were the highest on record, while nearly all of the state's southern half had maximum temperatures in the highest 10 percent of historical records.[1]
Australia's most populous city, Sydney, broke two historical records. Overnight on January 13-14, Sydney experienced its hottest January night and on December 12-13 it experienced its hottest December night in records dating back to 1858.[2][3]
Several stations in northern and eastern New South Wales and southeastern Queensland, including the Sydney metropolitan region, broke records for runs of consecutive hot days or nights, or for the total numbers of hot days or hot nights during the month of January. The extremely hot conditions have persisted since late December and continued into February.[1]
As of February 5, 2017, the town of Moree near the Queensland border recorded 41 consecutive summer days with high temperatures of 95°F (35°C) or more, smashing the previous record of 17 consecutive days in the summer of 1981-82.[4]
Farmers in Queensland's south have been hit hard, reportedly battling to harvest 30 percent of their crop after three heat waves in two months.[5]
Many parts of the country are experiencing record-breaking temperatures in what has been called a new era of extreme heat.[6] The changing weather has caused rolling heatwaves and a 14 percent increase in the annual number of 35-plus degree days over the past 20 years.[6]
The extreme heat in early 2017 is a continuation of exceptional heat observed in 2016. Sea surface temperatures around Australia in 2016 were the warmest on record at 1.4°F (0.77°C) above average.[7] Australia's national mean temperature was 1.6°F (0.87°C) above average, and it was the fourth-warmest year on record.[7]
---
Increases in extreme heat due to climate change poses serious health threat for many Australians
Climate change is already affecting heat waves in Australia. Since 1960, the number of record hot days in Australia has doubled and heat waves have become longer, hotter and more intense.[8][9]
Heat waves are associated with an increase in mortality. Major heat waves caused 2,887 deaths between 1890 and 2013 in Australia, more than bushfires, cyclones, earthquakes, floods and severe storms combined.[10]
Australia's mortality data indicate that over the past four decades there has been a steady increase in the number of deaths in summer, compared to those in winter suggesting that climate change may already be affecting mortality rates.[11]
During the mid-January 2017 heat wave in Queensland, a 30-year-old man died from heatstroke.[12]
---
Global warming dramatically increases frequency of the most extreme heat events

A small shift in climate leads to a dramatic increase in the frequency of temperatures at the high end. The very most extreme events are the events most affected by climate change. As the average global temperature rises and the climate shifts, hot temperatures that were extreme under the old climate are closer to the middle of the new temperature range. Under the earth's climate system events closer to the midpoint of the climate range occur much more frequently than events closer to the extremes, as shown in the graphic on the right. The shifting bell curve also leads to the occurrence of never-before-seen extremes in high temperatures.[13][14][15]
...it is the rarest and the most extreme events - and thereby the ones with typically the highest socio-economic impacts - for which the largest fraction is due to human-induced greenhouse gas emissions.[16]
Due to global warming, the most extreme heat events now impact a global area 10 times greater than in the period 1951-1980.[13]
The impact on moderate heat waves is also dramatic, with a seventy-five percent share of moderate heat events now attributed to climate change.[16]