Climate science at a glance
Climate change amplifies the damage done by hurricanes.
Seas are now higher due to global warming, so storm surge drives much further inland.
Rain falling in very heavy events in Puerto Rico increased 33 percent from 1958-2012.
The "1,000-year" rains witnessed during Maria reflect the trend of increasing extreme rainfall driven by climate change.
There is a significant risk that global warming is responsible for the growing power of hurricanes that we have witnessed over the last 30-40 years.
We are now experimenting with the weather.
The record-breaking flooding driven by Maria, Irma and Harvey is what climate change looks like.
Extreme rainfall is increasing worldwide due to climate change.
Climate change is now helping to fuel deluges around the world. The fingerprint of climate change has been firmly identified in the observed global trend of increasing extreme rains.
---
Hurricane Maria devastated the Caribbean with extreme precipitation
Maria pounded Puerto Rico with 5 to 7 inches of rain per hour on September 20, contributing to record-breaking flooding.[1] The northwestern and eastern regions of Puerto Rico experienced widespread 1,000 year rainfall, as shown in NOAA's official rainfall analysis below.[2]
Climate change is fueling extreme rainfall and dramatically increasing rainfall across many types of storms.[3][4] In Puerto Rico, there has been an increase in the heaviest rainfall events, defined as the heaviest 1 percent of all daily events, from 1958 to 2012.[5] An increase in rainfall rates is one of the more confident predictions of the effects of climate change on tropical cyclones.[6]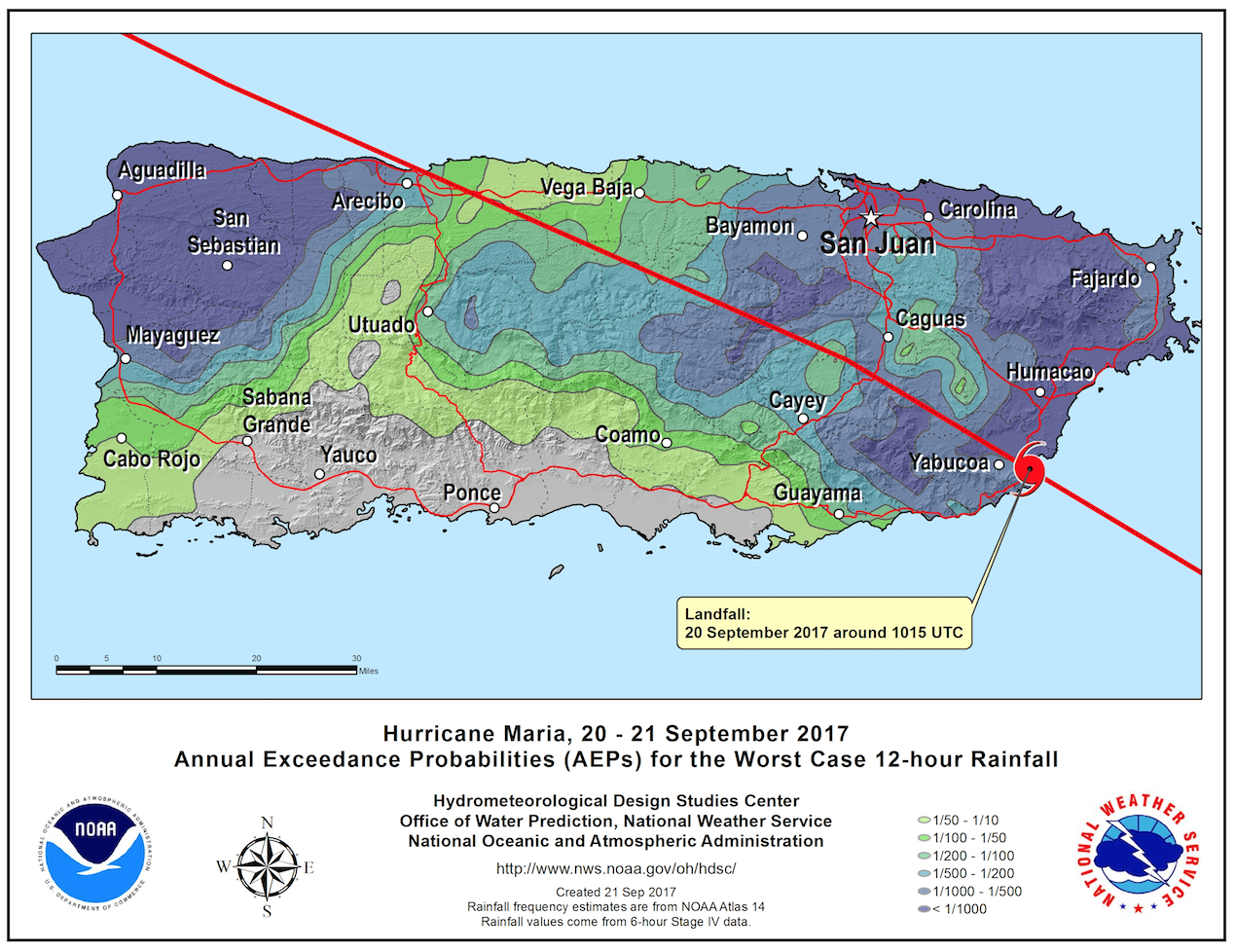 ---
Like elected officials setting highway speed limits, water temperatures set maximum speed limits for hurricanes
There is significant evidence that global warming may be responsible for the growing power of hurricanes in the Atlantic observed over the past several decades. Hurricanes Irma, Harvey and Maria extend this trend of increasing hurricane activity. However, there is not yet a full scientific consensus linking this trend to global warming.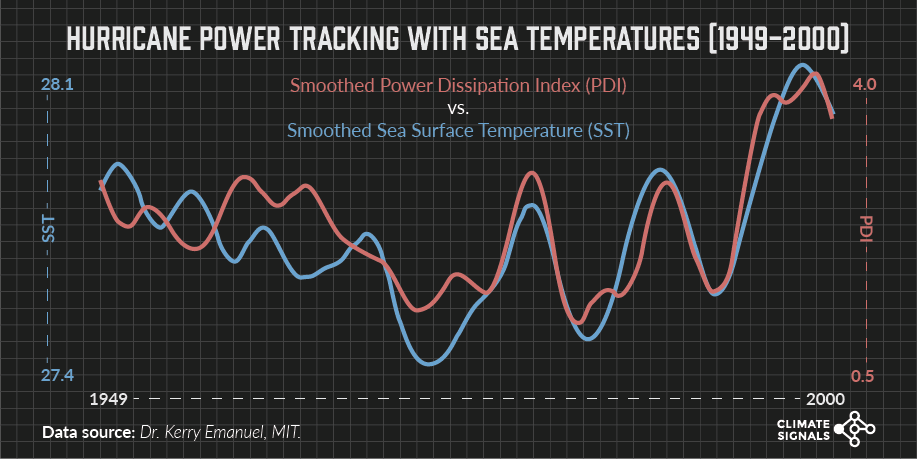 Increasing sea surface temperatures mean there is more energy available to passing storms, which raises the power ceiling, the theoretical maximum strength storms can reach.[6][7] But whether storms are growing in power because of that dynamic or because of natural variation is not clear. What is clear, is that there has been a global increase in the observed intensity of the strongest tropical cyclones, correlated with observed trends in sea surface temperatures in recent decades.[8][9]
Hurricane Maria's minimum central pressure of 908 mb is the lowest pressure on record of any hurricane in the Atlantic basin east of 70°W, and broke the record that had been set just a couple of weeks earlier by Irma of 914 mb.[10]
---
Sea level rise increases the baseline elevations for waves and storm surge
In coastal regions, storm surge is the most significant impact of tropical cyclones.[6] Climate change has already contributed about 8 inches (0.19 meters) to global sea level rise,[11] and this has dramatically amplified the impact of cyclones by increasing baseline elevations for waves and storm surge.[11][12][13][14]
During Hurricane Maria, water level of 5.01 feet above ground level was reported at a NOAA ocean tide station in Yabucoa Harbor, Puerto Rico.[15]