2017 U.S. Tornado Deaths Top Two Dozen, and the Majority Have Been in Mobile Homes
,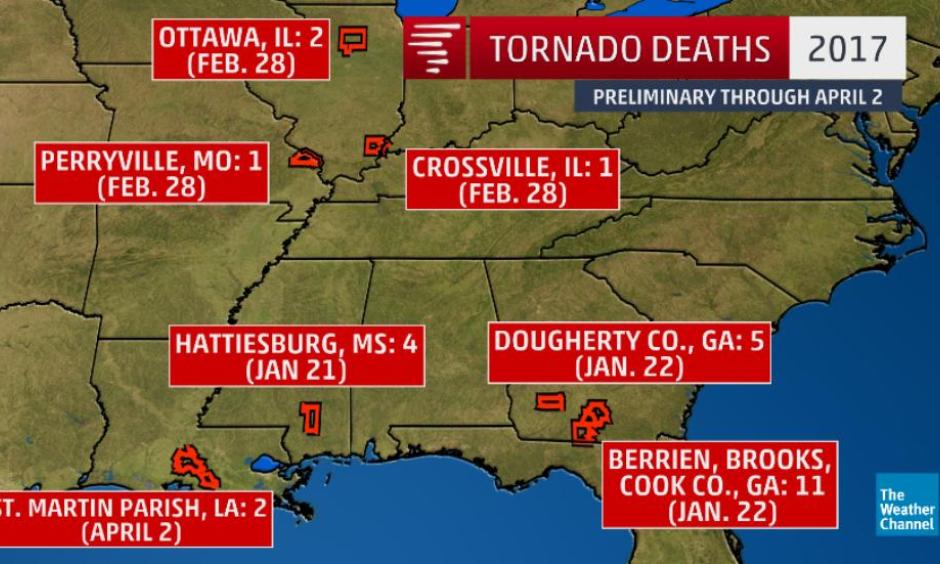 So far in 2017, 26 people have been killed by tornadoes.
About 65 percent of the deaths have occurred in mobile homes.
This year has already had more tornado-related deaths than all of last year.
...
Sunday's deaths in Louisiana illustrate the extreme danger of being inside a mobile home during severe weather, including tornadoes and even damaging straight-line winds.
Reinforcing this is the fact that 17 of the 26 tornado-related deaths, or about 65 percent, have occurred in mobile homes.
...
About 96 percent of tornado-related deaths 1950-2011 were from EF2/F2 or higher rated tornadoes, according to the tornadoproject.com. But weaker tornadoes such as Sunday's EF1 can also be deadly if you are not in the interior of a sturdy structure. The other 24 deaths this year occurred in strong EF3 and EF4 rated tornadoes.
The NWS says that nearly 40 percent of all tornado deaths have historically occurred in mobile homes.