Active 2019 Atlantic hurricane season comes to an end



 Bahamas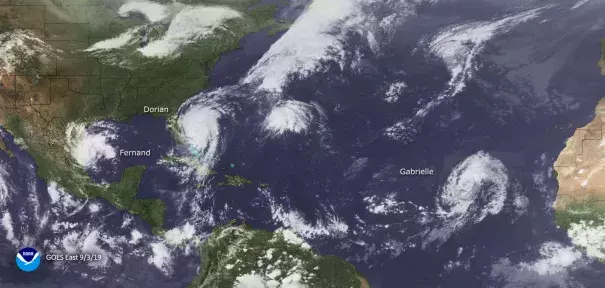 Signals Summary: As climate change causes oceans to warm, surface waters have more energy to convert to hurricane winds, which scientists say is likely increasing the intensity of hurricanes. This trend is strongest in the Atlantic.
---
The [2019 Atlantic Hurricane] season produced 18 named storms, including six hurricanes of which three were "major" (Category 3, 4 or 5).
...
This year marks the fourth consecutive above-normal Atlantic hurricane season.
...
Hurricane Dorian is tied with three other hurricanes — the 1935 Labor Day Hurricane, 1988's Hurricane Gilbert and 2005's Hurricane Wilma — as the second strongest hurricane on record in the Atlantic basin in terms of wind (185 mph).
...
"This season's activity ramped up in mid-August during the normal peak of the season, as we predicted," said Gerry Bell, Ph.D., lead seasonal hurricane forecaster at NOAA's Climate Prediction Center. "The above-normal activity is consistent with the ongoing high-activity era, driven largely by the Atlantic Multidecadal Oscillation, which entered a warm phase in 1995. Conditions that favored more, stronger, and longer-lasting storms this year included a stronger West African monsoon, warmer Atlantic waters, and weak vertical wind shear across the western Atlantic and Gulf of Mexico."