Albany, Georgia, EF3 Tornado Traveled At Least 70 Miles; January 21-23, 2017 Outbreak Among Largest on Record in Winter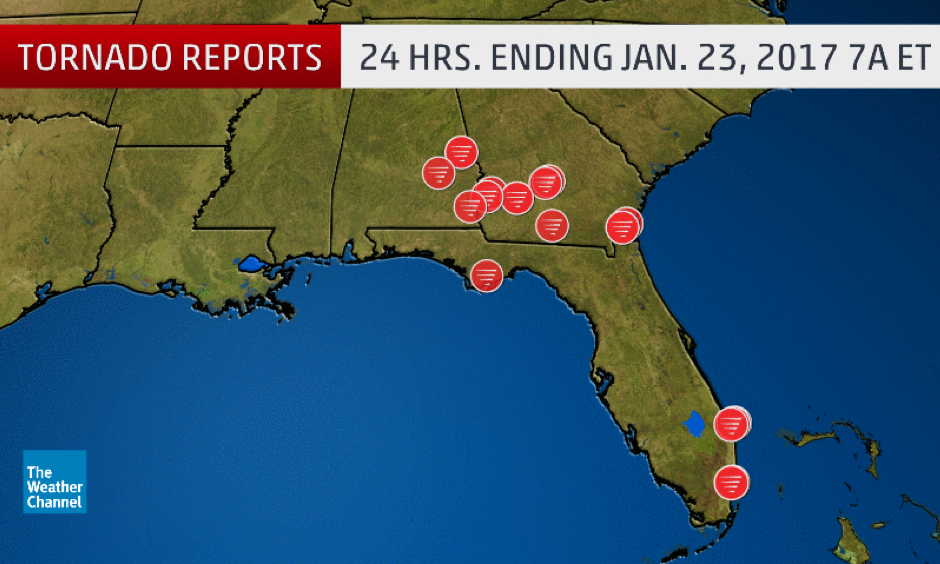 Archiver's preface
While tornadoes may be clustering (with higher numbers per outbreak) in connection to climate change,[1] there is no evidence yet that the total number of tornadoes per year is increasing. In fact, the physical properties at work suggest global warming may affect tornadoes in two different ways that cancel each other out.[2]
Tornadoes require strong upper level winds, up to three miles above the ground, to contrast with slower currents near ground level in what's called wind shear. It often occurs when warm temperatures from the south run into colder temperatures from the north. Global warming creates warmer temperatures in the north, decreasing wind shear, so it could actually lead to fewer tornadoes. However, another factor that affects storm intensity—convective available potential energy, or CAPE—is likely increasing.[3][4] (CAPE is determined by moisture differences between the surface and higher regions of the atmosphere.)
While the balance of evidence suggests more intense storms/thunderstorms due in part to increasing CAPE, tornadoes in particular may not increase because they need an additional factor, wind sheer, that global warming may be reducing.
Article excerpt
The Jan. 21-23, 2017 tornado outbreak was one of the largest outbreaks on record not only for January, but for any winter month, according to data from the National Weather Service.
Storm surveys done jointly by the National Weather Service offices in Peachtree City, Georgia, and Tallahassee, Florida, found an EF3 tornado that ravaged parts of Albany, Georgia, on January 22 was on the ground for an hour and 12 minutes, tearing an almost 71-mile path through parts of five Georgia counties.
This continuous, long tornado path is quite rare in the historical record since 1950, according to Alex Lamers, a meteorologist and program coordination office with NOAA, formerly a staff meteorologist at NWS-Tallahassee.
...
Over a roughly 48-hour period from the morning of Jan. 21 through Jan. 23, at least 79 tornadoes have been confirmed either by National Weather Service damage surveys in eight southern states from Texas and Arkansas to Florida to South Carolina.
According to data from The Weather Channel severe weather expert, Dr. Greg Forbes, this latest outbreak spawned the second largest number of tornadoes for any January outbreak, topped only the January 21-22, 1999 outbreak.
This latest outbreak is also the third largest outbreak on record for any winter month of December, January or February in reliable records dating to 1950. The infamous Super Tuesday 2008 outbreak also exceeded the count from the Jan. 2017 outbreak.
| Five Largest U.S. Tornado Outbreaks in December-February | |
| --- | --- |
| Jan. 21-22, 1999 | 129 tornadoes |
| Feb. 5-6, 2008 ("Super Tuesday") | 86 tornadoes |
| Jan. 21-23, 2017 | 60 tornadoes (estimate) |
| Jan. 29-30, 2013 | 56 tornadoes |
| Jan. 7-8, 2008 | 49 tornadoes |
| (1950-2017; SOURCE: DR. GREG FORBES/THE WEATHER CHANNEL; NWS FOR 2017 ESTIMATE) | |

This outbreak has now pushed the tornado count for January 2017 to 111, the second highest total for any January on record since 1950, and only the second time that count has topped 100, according to Forbes. January 1999 had an incredible 212 tornadoes.
To put this in perspective, the 20-year average (1996-2015) U.S. tornado count in July is 112.