Andhra Pradesh Braces For Cyclone Hudhud, Evacuations Are Planned



 India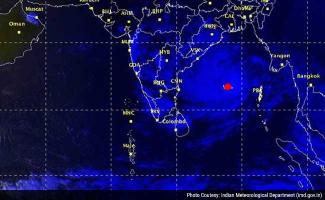 The government in Andhra Pradesh is stocking shelters with rations, deploying disaster response forces and prepping for the possible need for mass evacuations as an increasingly powerful cyclone hurtles towards India's southeast coast.
Cyclone Hudhud is moving in from the Bay of Bengal and is expected to hit the coast of Andhra Pradesh and Odisha on Sunday morning, packing wind speeds of up to 140 kph (87 mph).
Hudhud (named for a bird) is now classified as a Category 1 severe cyclonic storm on a scale that rises to Category 5. It is predicted to strengthen to Category 4 before landfall around the port city of Visakhapatnam in Andhra Pradesh.
...
A year ago, a severe cyclone called Phailin battered the same region.
Strong disaster preparedness, including the evacuation of nearly one million people to cyclone shelters, helped save many lives. Phailin's death toll was 53; a monster storm in 1999 which hit this area killed 10,000 people.