Arctic Cold Surge Smashes Over 400 Mid-November Records in the Plains, Midwest, South and East



 United States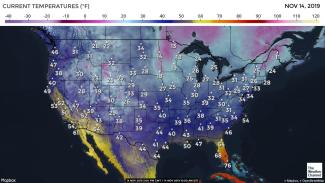 There is a growing body of evidence showing that climate change could actually make frigid waves of Arctic air more common, and we are currently seeing this in the central and eastern U.S.
---
An arctic cold blast has shattered hundreds of mid-November cold records across the central and eastern U.S. this week, and will slowly relent over the next several days.
...
Culling through National Weather Service record statements, over 400 daily mid-November cold records, including record lows and record-cold high temperatures, have been tied or set across the nation since Veterans Day.
Some of these daily records eclipsed those set during the infamous 1911 Great Blue Norther cold front, one of the most extreme cold fronts in U.S. history.