Arizona reels as three of the biggest wildfires in its history ravage state



 United States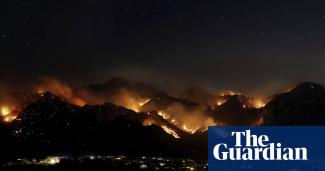 Climate Signals Summary: The western US is hotter and drier due to human-caused climate change, and this makes wildfire prone areas more susceptible to large and fast-spreading fires that occur more often and at more times during the year.
---
Article Excerpt: The Bush fire in the Tonto national forest, about 30 miles from Phoenix, now covers 193,000 acres and 98% is contained. It is the fifth-biggest in state history. Meanwhile, the Mangum fire burning in the Kaibab national forest now covers over 71,000 acres and 67% contained. The trio of fires are bigger than Washington DC, San Francisco, Baltimore, Chicago, Miami, Minneapolis and Manhattan combined. Despite the fires' enormous size, only one home has suffered serious structural damage.
...
Amber Soja, a scientist at Nasa who studies the links between climate change and wildfires, recently referred to the Bush fire as an "extreme fire" due to the elevation at which the fire burned and the weather which fueled it.
In June, Arizona saw regular daily temperatures of 105-110F. And little rain has fallen so far this summer, despite 15 June marking the start of the state's official monsoon season.
"This is extreme heat and drought," Soja said in a video published by Nasa.
Beyond the three major fires, eight others in Arizona are either still burning or were recently contained. One of them, the Blue River fire, is over 30,000 acres and 85% contained, burning on the San Carlos Apache Indian Reservation. Another, the Wood Springs 2 fire, now covers nearly 9,000 acres of the Navajo Nation and is only 5% contained. Both of those fires, like the Bighorn fire, ignited via lightning strikes according to the National Wildfire Coordinating Group.
The wildfires come as tribal nations and Arizona face an uptick in Covid-19 cases. The Navajo Nation has the highest per-capita infection rate in the US, while Arizona currently faces an infection rate of over 28% of those tested.
...
The Navajo Nation issued a smoke advisory warning on 1 July, urging all residents to "take precautions to protect their health from the wildfire smoke" coming from the Wood Springs 2 Fire.
The tribe stated exposure to wildfire smoke could lead to an "increase[d] risk of Covid-19 and other respiratory infections" or worsen symptoms in infected patients.