Atmospheric river unloads record rainfall on California, spurring flooding and mudslides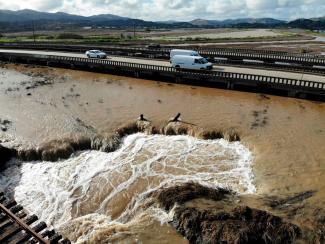 Californians knew for a while that an atmospheric river was coming in the latter half of this week. But that was about all that was certain, at least until just before it arrived.
A two-day north-south combo punch turned out to be a soaker — and it hit almost everywhere.
From Wednesday to Thursday, the river in the sky packed an astoundingly waterlogged wallop.
Combined with a pair of low-pressure systems sliding down from the Gulf of Alaska, it dumped more than a foot of snow on the north Central Valley city of Redding, the most there in more than 50 years.
The next day, Palomar Observatory, located on a mountaintop 60-plus miles north-northeast of San Diego, took in 10.1 inches of rain — its wettest day ever recorded. Palm Springs posted 3.68 inches, its wettest February day on record and the third heaviest 24-hour rainfall in any month.
Thankfully for California, it did not suffer intensive flooding caused by rain melting away the deep snowpack accumulated over this wet winter. At Lake Oroville, the site of that scary spillway failure two years ago, the reservoir was taking in 66,000 cubic feet per second, yet there was plenty of capacity for this inflow.
...
According to the days-old Ralph Scale, which measures the strength of AR events, this was a Category 3 — "strong." Notably, the scale — which factors intensity and duration — knocked down the rating from a Cat 4 ("extreme") in Northern California because of a lower-intensity IVT and in Southern California because the storm passed through in less than 24 hours.