Blue Cut fire fully contained



 United States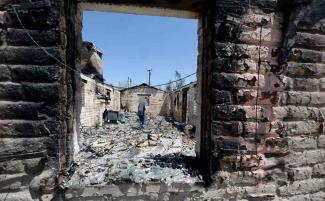 One week after it ignited west of Interstate 15 in the Cajon Pass, the Blue Cut fire is completely contained.
The fire peaked just above 37,000 acres, but by Tuesday, Aug. 23, it was down to 36,274 acres.
The blaze destroyed more than 300 structures, about a third of which were homes, and forced the evacuation of about 82,000 residents.
Officials have said the fire displayed unprecedented growth in its first few days. It grew to cover 18,000 acres — about 28 square miles — in less than 24 hours.
The fire forced I-15 — the main artery between the Inland Empire and the High Desert — to shutter for more than a day. Still closed Tuesday was US Forest Road 3N31 at Lone Pine Canyon Road and a dirt road portion of Lytle Creek from the gun range into the forest, according to an incident fact sheet from the U.S. Forest Service.
As of Tuesday morning, no more mandatory evacuations are in place, and residents are allowed back in their homes with proof of residency in most areas.
The plan Tuesday for the over 1,200 firefighters still at the blaze is mostly related to reinforcing current containment lines around the fire and cleaning up after it.
Nobody was killed in the fire, though there were firefighters injured