California wildfire outbreak among deadliest in state history



 United States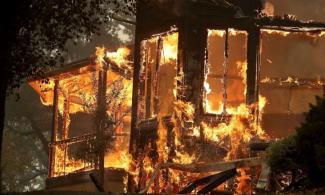 Dry conditions and gusting winds fueled a deadly outbreak of wildfires in California that quickly exploded through thousands of acres of forest and residential neighborhoods, killing at least 13 people and injuring over 100 others.
More than a dozen fires that broke out across the state on Sunday and Monday have destroyed at least 1,500 structures and scorched nearly 100,000 acres of land. Some 20,000 people have been forced to flee.
It is already among the deadliest wildfire outbreaks in the state's history, and officials have said the death toll may go up as responders reach more areas that have been struck by the out-of-control blazes.
The so-called Tubbs fire claimed seven lives in Sonoma County, officials said, making it one of the most devastating natural disasters in the county's history.
Here are some of the deadliest wildfires in California state history:
Griffith Park, Los Angeles County (October 1933): 29 dead
Tunnel - Oakland Hills, Alameda County (October 1991): 25 dead
Cedar, San Diego County (October 2003): 15 dead
Rattlesnake, Glenn County (July 1953): 15 dead
Loop, Los Angeles County (November 1966): 12 dead
Inaja, San Diego County (November 1956): 11 dead
Hauser Creek, San Diego County (October 1943): 11 dead
Iron Alps Complex, Trinity County (August 2008): 10 dead
Harris, San Diego County (October 2007): 8 dead
Canyon, Los Angeles County (August 1968): 8 dead
Source: California Department of Forestry and Fire Protection.