Cindy Generates Widespread 2-4 Foot Storm Surge
,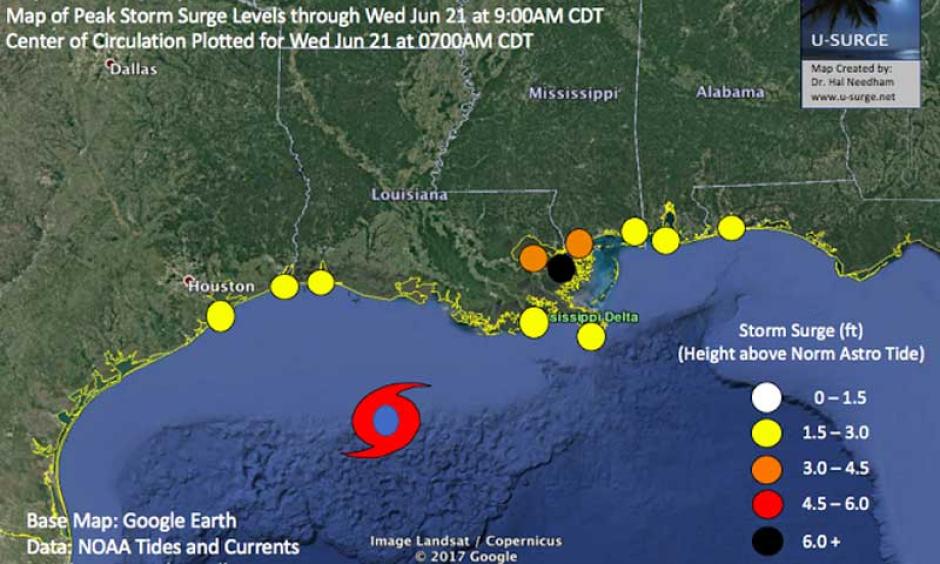 While Tropical Storm Cindy's torrential rains have grabbed the headlines, coastal flooding in Southeast Louisiana and Mississippi inundated some communities with saltwater.
Cindy generated widespread 2-4 foot storm surges in the region, with a localized maximum exceeding 6 feet at Shell Beach, La. The highest storm surge levels occurred east of the Mississippi River, even though the center of circulation has been moving to the northwest, with a likely landfall location near the Texas/Louisiana border.
Shell Beach, La., observed the highest storm surge so far, with a surge level exceeding 6 feet (1.83m). At 1:06 a.m. local time, the tide gauge observed a water level 6.07 feet higher than predicted astronomical tides. Water levels had been consistently rising through the evening under sustained northeast winds exceeding 35 mph and often gusting more than 45 mph.
The map above depicts peak storm surge levels through 9 a.m. Central time today. Bay Waveland Yacht Club at Waveland, Miss., and New Canal Station in New Orleans, both observed storm surge levels in the 3.5- 4 foot range.
Wind and water observations for Shell Beach provide insight into the localized nature of storm surge. Water levels peaked following a period of sustained winds from the northeast. This wind direction pushes water directly into Shell Beach, which may seem unusual as we may picture onshore winds along the northern Gulf Coast blowing from the south.