The Climate Context for Raleigh's Rains and Florida's Fires



 United States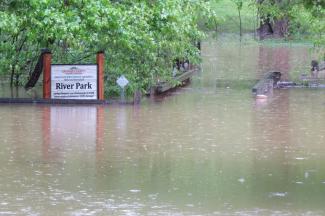 Two opposing weather situations are playing out right now in the Southeast: While parts of North Carolina are submerged thanks to a record downpour, Florida is battling wildfires fueled by a drought that now outranks the one in California.
While these conditions sit at opposite ends of the weather seesaw, both may be affected by a changing climate. Heavy downpours have been on the rise and are expected to continue increasing across the Southeast — and the whole U.S. — as temperatures climb. Those same rising temperatures are also likely to exacerbate future droughts.
...
While such heavy downpours and resulting floods have always happened, they are expected to happen more often and dump even more rain as global temperatures rise because of the excess heat trapped by human greenhouse gas emissions. This happens because a warmer atmosphere holds more moisture, which makes more water available to rainstorms.
A December study found that extreme rainstorms that currently occur about once a season could happen five times a season by century's end and that such storms will drop about 70 percent more rain in the future.
This warming-driven trend in more heavy downpours is already evident across the U.S. and the Southeast. Between 1958 and 2012, the heaviest 1 percent of all rainfall events have risen by 27 percent in Southeast, according to the 2014 National Climate Assessment. Several studies have found that warming has made major rain-caused flooding events more likely, including ones last year in Baton Rouge, La.
The current rain event follows two much more catastrophic ones in recent years: a 1-in-9,000 year rainfall event in South Carolina in 2015 and major deluges and flooding from last year's Hurricane Matthew.