Damaging Storms, Possible Tornadoes Strike Texas, Missouri, Arkansas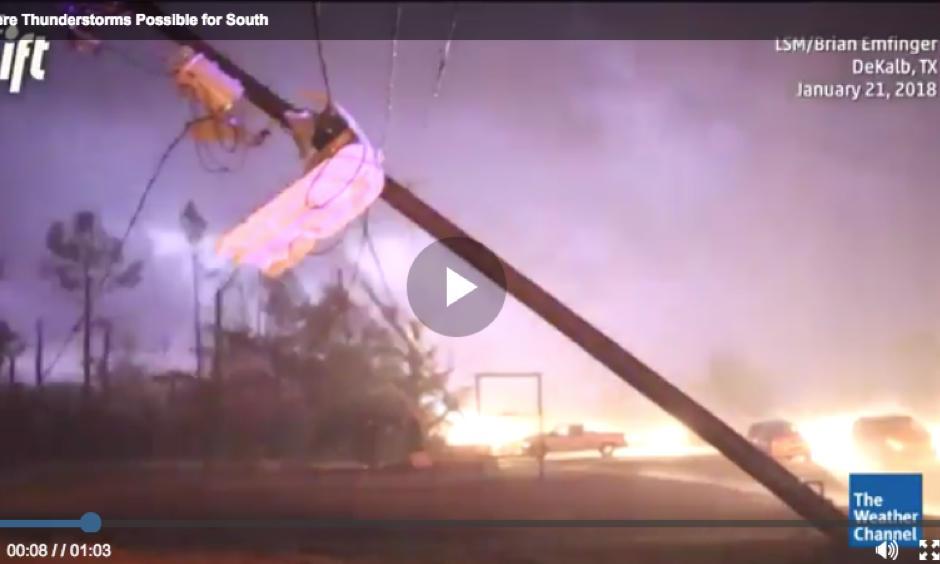 Severe thunderstorms appeared to spawn at least three tornadoes Sunday night in Texas and southwest Missouri, and a few more severe storms are possible Monday in parts of the Deep South.
At least 20 homes were damaged by an apparent tornado near De Kalb, Texas, Sunday evening. Trees were snapped and uprooted and power lines were downed near the town about 30 miles west-northwest of Texarkana in far northeastern Texas's Bowie County.
Another apparent tornado brushed the north side of Winnsboro, Texas, Sunday evening, damaging some buildings and downing trees and power lines.
A third tornado downed trees and damaged buildings near the southwest Missouri town of Mt. Vernon, located roughly halfway between the cities of Joplin and Springfield.
Earlier Sunday afternoon, hail up to nickel size was observed in several parts of the Dallas-Fort Worth Metroplex, though damage had not been reported.
Later Sunday night, as the storms marched east, damage was reported in Sebastian County, Arkansas, in the far western part of the state. North of Little Rock, multiple structures were destroyed overnight in Faulkner County, according to the National Weather Service.
Cold, dry air typically squelches the threat of severe thunderstorms in most locations outside the Deep South in winter. This winter, however, the cold has been particularly pervasive well into the Deep South.
As a result, there had been only one confirmed tornado in the U.S. since Dec. 21, an EF1tornado in Amelia County, Virginia, on Jan. 12, according to NOAA's Storm Prediction Center.