Deadly Wildfire Roars Through Ventura, Santa Paula, California; 27,000 Flee, 150 Buildings Destroyed



 United States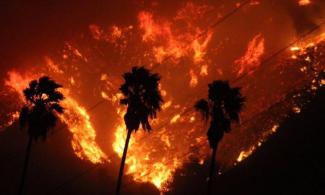 Fueled by fierce Santa Ana winds, a fast-spreading wildfire in Southern California that started Monday night consumed tens of thousands of acres, killed one person, destroyed 150 structures and forced 27,000 people from their homes in Ventura County by Tuesday morning.
The Thomas Fire was first reported in the mountains just north of Santa Paula, California, around 6:30 p.m. Monday, about 50 miles west-northwest of downtown Los Angeles.
The wildfire quickly grew to nearly 50 square miles in less than 12 hours, prompting evacuations in the cities of Santa Paula and Ventura. Evacuation shelters were set up at Nordhoff High School in Ojai and at the Ventura County Fairgrounds.
Mandatory evacuation orders were expanded to include more than 7,700 homes early Tuesday morning, KABC-TV reported.
The fire had 0 percent perimeter containment, according to the Ventura County Fire Department.
...
There was one report of 50 homes burning in one part of the city of Ventura, according to the Los Angeles Times.
...
Santa Ana winds up to 50 mph were fanning the flames, pushing the fire's perimeter rapidly toward the west-southwest, toward the Ventura County coast. Spot fires were reported ahead of the main fire perimeter.
The National Weather Service warned Monday afternoon these strong Santa Ana winds, combined with very low humidity, provided an ideal setup for "very rapid fire growth." The strongest and longest-duration Santa Ana winds of the season, so far, were expected to continue through Thursday.